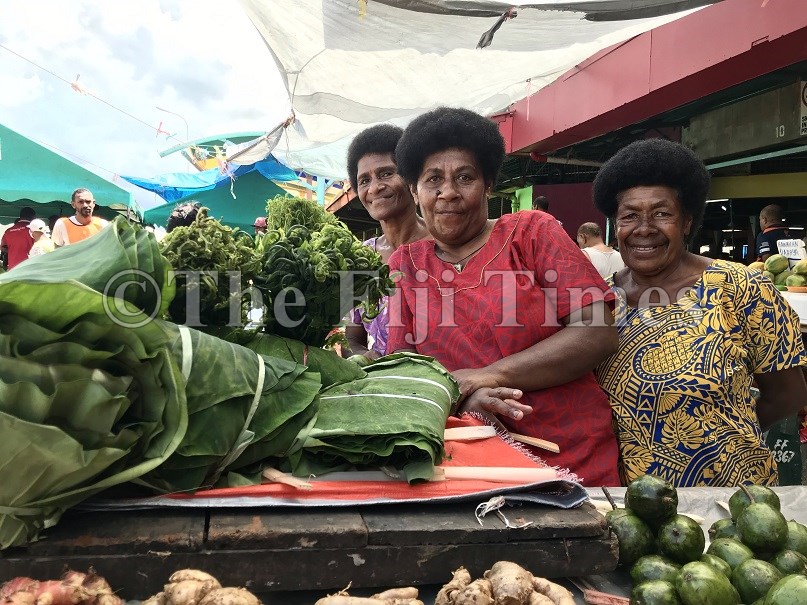 WHILE many of us sit in an airconditioned office from Monday to Friday, Taina Cavu of Lomai in Waidina, Naitasiri gets up very early and sometimes works in the heat with her husband to ready their produce to be sold at the Suva Municipal Market.
At 53 years old, Mrs Cavu said she has been doing this for more than 20 years.
"When I was 30 years old, I joined the ladies from the village to sell our produce at the Suva market," said Mrs Cavu.
"Every morning my husband and I collect produce. On Monday or Tuesday we harvest bananas from our farm and ripen it at home. On Wednesday we harvest ginger with some vegetables, on Thursday we harvest the dalo and collect the leaves. So we pack everything on Thursday afternoon ready for the one hour ride to the Suva market," said Mrs Cavu.
"We leave home at 8pm and spend the night sleeping outside the market until the next morning to sell our produce. Most of the time we don't sleep because our produce is just left outside and we have to look after it," she said.
"Every Friday we make sure to sell our produce so we can rush back home to rest. Sometimes we have to reduce our prices so the produce are sold quicker. This is so we can do our shopping and head back to the village," she said.
"We started with selling bananas and dalo. My husband and I work together. We sometimes can earn up to $600 from selling these produce and we use it mostly for my children's education. Now three of my children work as civil servants and one is at Fiji National University, with the two younger ones still at high school," said Mrs Cavu.
"On weekends my children help with harvest at the banana plantation and ready the lot for the market. My children join us every weekend at the farm, which is very helpful considering our ages," she said.
"Now I have started selling vegetables, ginger and some other root crops. Sometimes when the dalo and banana are not ready for harvest I switch to root crops. So some Fridays I can sometimes earn about $400 from those root crops and vegetables," she said.
Mrs Cavu says she strongly believes in utilising the land to help with financial burdens. She advises i-Taukei to do the same.
"Those with land should utilise it for better living standard. If we are lazy we won't be able to survive or support our family and future," said Mrs Cavu.