Suva survives Nadro wrath
13 September, 2020, 4:03 pm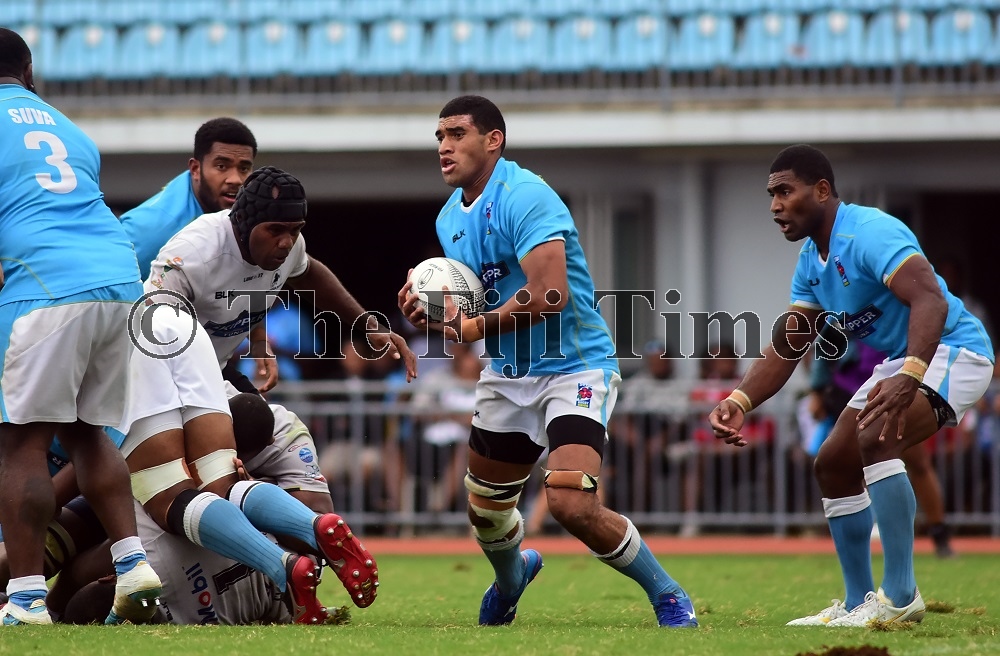 Suva survived Nadroga's wrath in the final quarter of the second half to win by 32-26 in the eighth round of the Skipper Cup competition at the ANZ Stadium.
The Capital City side scored three unanswered tries, converted two and a penalty kick to lead the Stallions 22-0 to the half time break .
Suva open wing Misaele Petero scored a double in the 20th and the 32nd minute while captain and number eight James Brown controlled the ball in a five metre scrum in the Nadroga territory to dive for the line.
Second five eight Serupepeli Vularika converted two tries and kicked three points to put them in a comfortable lead at the break. The Stallions made an unbelievable comeback in the second half to collect 26 points in 20 minutes and took the lead in the match. Nadroga fullback Apisalome Waqatabu kicked three points in the 44th and 46th minute.
Two minutes later they scored a try from outside centre Mesake Tuinamena and converted by Waqatabu. In the 52nd minute Waqatabu added another three points and again in the 55th minute to close the score margin to 22-19. In the 60th minute Nadroga veteran Setefano Somoca dived for their second try and a successful conversion to take them into the lead 26-22. Misaele Petero scored a hat-trick and James Brown sealing the match with their last try.
Suva team manager Nemani Tuifagalele said they wanted to avenge their loss in the first round and they did. "We were expecting Nadroga to come strong in the second half but we didn't know that it would be this close," said Tuifagalele.
"It's vengeance to our loss in the first round but hats off to the boys for the good game. Meanwhile Nadroga front rower Somoca said Suva was a champion side and there was no doubt about that.
"But hats off to the boys, we were told to keep it simple and play our own rugby and that's what we did in the second spell.
"I apologise to the fans for our downfall but we will come back stronger next weekend," said Somoca.
Nadroga will challenge Namosi for the Farebrother next Saturday.
Teams: Nadroga; 1. Timoci Sauvoli, 2. Meli Neori, 3. Setefano Somoca, 4. Manu Ratuniyarawa, 5. Rupeni Nahiga, 6. Jone Navori, 7. Rusiate Nasove 8. Ulaiasi Lewavou, 9. Emosi Vucago, 10. Jonetani Ralulu, 11. Napolioni Nalaga, 12. Saki Nakalevu, 13. Mesake Tuinamena, 14. Avimeleki Nadeba, 15. Apisalome Waqatabu. Reserves, 16. Mosese Gavidi, 17. Apete Salawaqavuka, 18. Taniela Vatunicoko, 19. Sailosi Dawai, 20. Timoci Davu, 21. Taitusi Lulusini, 22. Jiuta Lutumailagi, 23. Sakiusa Gavidi.
Suva; 1. Mateo Qolisese, 2. Lino Vasuinadi, 3. Manasa Saulo, 4. Manoa Tamaya, 5. Sorovakatini Tuifagalele, 6. Filimoni Seru, 7. Ratu Meli Derenalagi, 8. James Brown, 9. Leone Nawai, 10. Jone Manu, 11. Keponi Paul, 12. Serupepeli Vularika, 13. Apisalome Vota, 14. Misaele Petero, 15. Enele Malele. Reserves; Ratu Penaia Cakobau, 17. Apisai Vatubuli, 18. Ratu Penijamini Makutu, 19.Peni Tuiteci, 20. Kolinio Tamanitoakula, 21. Nemani Buliruarua, 22. Watisoni Sevutia, 23. Setareki Raoba.