Super Rugby: Would it have been so bad if Force had beaten the Chiefs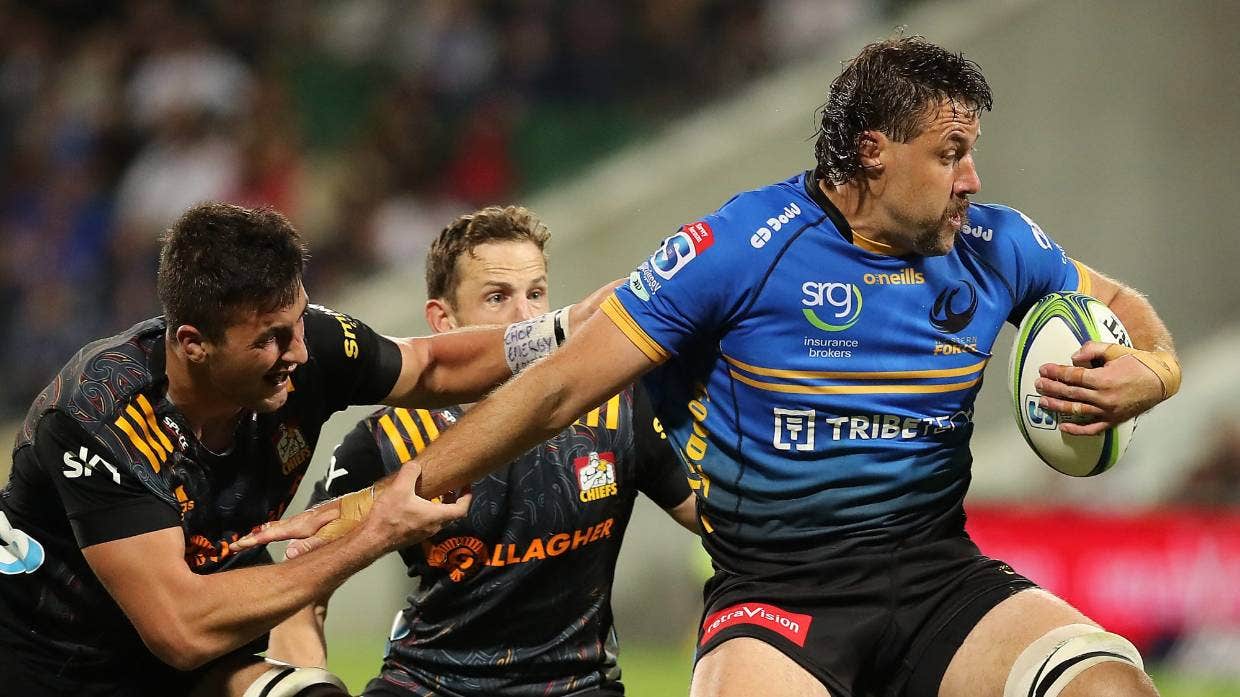 Quoting Oscar Wilde at a time like this may add to Domingo Miotti's discomfort.
"There is only one thing in life worse than being talked about, and that is not being talked about,'' stated Wilde.
If Irish poet Wilde hadn't flipped off his twig in 1900, Western Force first five-eighth Miotti might have pushed out a message on social media to challenge him on that.
Miotti had the chance to be a hero when the Force hosted the Chiefs in Perth on Saturday night. To convert his own try, from a wide angle, after the final siren was never going to be simple. He missed. The Chiefs won 20-19.
Miotti, understandably, looked as if wanted to find a foxhole to dive into. Until that moment many Kiwi and Aussie rugby fans may not have known a hell of a lot about Miotti. We do now.
The Brumbies would have sympathised with their mates from Western Australia as they watched from their Christchurch hotel on Saturday night.
If Noah Lolesio had slotted a sideline conversion on the final bell against the Crusaders, they would have secured a well earned draw at Orangetheory Stadium.You guessed it.
He missed. Instead, the Crusaders won 31-29. They got lucky and judging by the look on coach Scott Robertson's face afterwards, they knew it.
The Force and Brumbies had done well. Especially the mob from Canberra, given they had to pick themselves up after losing the Super Rugby Aussie final to the Reds in Brisbane a week earlier.
Honesty time. Would a draw and defeat for the two New Zealand teams that battled out the Super Rugby Aotearoa final been so bad for the Trans-Tasman competition?
Some success for the Australians would have given everyone from both sides of the creek plenty to discuss in the days ahead, and have surely led to a spike in interest ahead of round two.
Instead, the wins for the Highlanders, Hurricanes and Blues, over the Reds, Waratahs and Rebels respectively, ensured the Kiwi sides completed a clean sweep of the Aussies.
The Reds, without a number of key players after coach Brad Thorn had elected to rest them, faded to a 40-19 loss in Dunedin.
You could imagine some of the windbags from the northern hemisphere snorting into the cups of hot chocolate during the Hurricanes' bizarre 64-48 win over the Waratahs in Sydney.
You know what? They would have had reason to laugh at the meek defensive efforts from both teams, who surrendered 17 tries between them.It's nice to be treated to a smorgasbord of tries, but that bordered on the ridiculous.