Spot for coffee lovers
28 January, 2022, 11:10 pm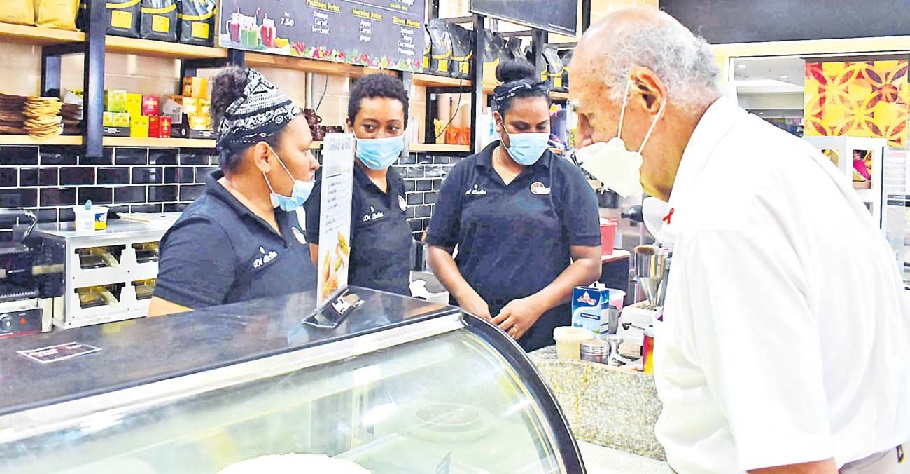 Coffee lovers will now get the chance to try an Australian coffee brand Di Bella at the new Coffee Break outlet at MHCC in Suva.
Operations manager Shamal Sharma said this was a new venture that the owners of Lunchbox Chicken and Peri Peri franchise had taken.
"So what we have done is we have brought in one of Australia's largest selling coffee that's Di Bella whereby we have three of their blended coffees that's Felici, Modena, and Organic," he said.
"The reason for opening a branch here in the mall, in the heart of the city is because I believe MHCC has the most foot traffic, in regards to people moving around doing their shopping in this mall.
"And likewise, we have the food court on top as well," he said.
Mr Sharma said they had invested around $200,000 to set up the outlet as their equipment was brought in all the way from Australia, these were their coffee brewing machines, freezers and coolers. Even though it was a costly venture according to the operations manager, they were looking ahead despite the challenges brought in by the COVID pandemic.
"We have created another six new jobs and we have brought in people who have been staying home since the pandemic.
"We have brought them in just to make sure that we are able to feed their families."
These six staff members were said to have been employed before as baristas, pastry chefs or as cashiers in cafeterias. He said the company during its hiring process, saw their skills and experience required in terms of doing barista work.
"We are giving them training from our end as well in-house trainings but from looking at the experiences we have brought in staff who have previous experience in this field.
"Actually we have our hands on training that keeps on going on because we have our own baristas as well that based in other branches," said Mr Sharma.
The coffee shop which is located at the entrance was said to be attracting a lot of attention as one of their most popular items on the menu were the cold beverages.
"Likewise apart from coffee, we do serve a wide range of pastries, cakes, and on the other hand we have our sandwiches, "Then we have our gourmet pizzas as well that we serve here and I believe anyone who comes in here will get a better experience of being a coffee lover and trying out our products."
Mr Sharma said Coffee Break offered a breakfast and lunch menu as the feedback from the consumers had been satisfactory.
He said ever since they opened they were getting more dine-in orders rather than takeaways. He added people enjoyed the environment and set up of their store as it was beside the creek which provided the perfect scenery to enjoy the drink. At the moment all their blended cold drinks were popular because of the hot weather according to Mr Sharma.
"I believe they're enjoying our product, it's all about the products that we offer to our customers.
"And we have seen customers who have come back in this last six days and we have also seen customers who are walking in as new customers and definitely they are giving good feedbacks about this development."
The owners of Coffee Break brought in the Di Bella product into Fiji as they believed it to be marketable.
"So we couldn't use their franchise but we gave the shop a name of coffee break so we could market their products in Fiji.
"And definitely we are looking forward to selling their beans here in Fiji whereby people will get to know the taste of the beans and as it's one of the big roasters in Australia, I believe it's a prop to cup philosophy that they have."
Mr Sharma said Di Bella bought their beans straight from the farmers and they had it processed at their own manufacturer.
"They also have shops in Australia as Di Bella but what happened is one of our owners went to Australia and they tried out the beans and they were sure that we could give it a market here in Fiji as well."
The Di Bella coffee products are available at Coffee Break outlet in Suva as well as in their Flagstaff, Peri Peri shop and also in their Kasanji branch in Raiwaqa.
Coffee Break was open from 7am to 7pm six days in a week and had a sitting capacity of 36 people.
Mr Sharma said as COVID measures eased they might consider operating every day.
"I believe it is a challenging time right now, in terms of like the COVID protocols and things in place and then people are getting less hours right now.
"And we have gone into the markets and we have looked at the prices as well.
"I believe our prices are reasonable in terms of if we are comparing it to other cafeterias.
"We have brought in the reasonable prices so that the locals are able to afford."
Mr Sharma said the situation would definitely become better in days to come as the restrictions were eased.