Possibility of stronger engagement between two countries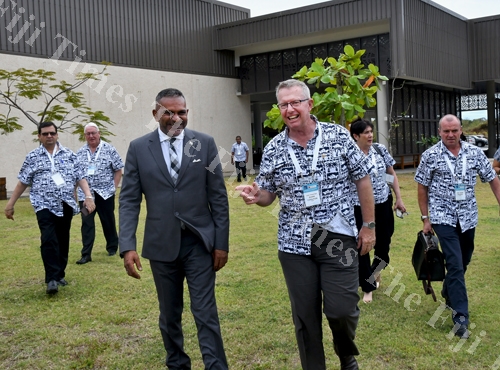 THE possibility of stronger engagement between our two nations has grown over the past period of years, and the Fiji Australia Business Forum confirms that we are going to see a lot more integration from now onwards, says Australia Fiji Business Council president Geoffrey Shaw.
More than 150 delegates from Fiji and Australia attended the 2018 FABC and AFBC Joint Business Forum held at the Fiji Marriott Momi Bay Resort over a three-day period last week.
A joint statement from the two organisations stated that Australia was the largest source of foreign investment in Fiji so far and in 2007, it was valued at $A1.2 billion ($F1.8b) and today, it was worth $A2.1b ($F3.2b).
It said annually organised and co-hosted by sister councils, FABC and AFBC, this year's joint business forum was the 24th of its kind.
It said significant sectors and issues were covered in the program, and presented by well-respected experts from various fields — from a senior economist's report on the Fiji economy and business, to sessions looking at global trends that will disrupt boards in 2019, building resilient industries in a changing climate, tax matters, productivity, construction, waste, manufacturing, agriculture and tourism; the forum explored the challenges of doing business in Fiji, and innovative solutions that will strengthen Fiji's position as the hub and the new powerhouse of the Pacific.
FABC president Dave Aidney said they were delighted to have Minister for Industry, Trade, Tourism, Lands and Mineral Resources, Faiyaz Koya and Australia's Assistant Minister for Trade, Tourism and Investment, Mark Coulton as the chief guests at the forum.