Police team to face 7s probe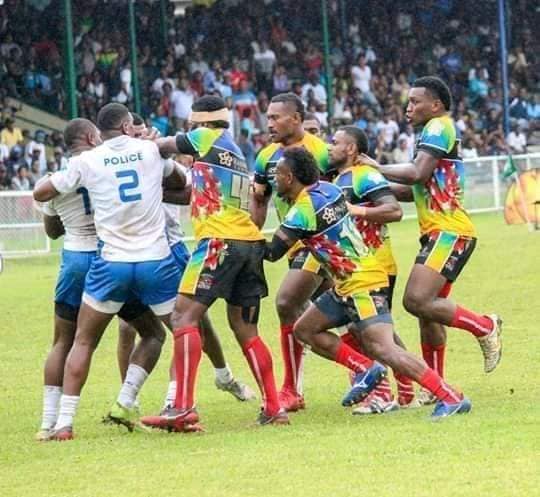 THE axe has fallen on the Fiji Police White 7s team from participating in any rugby tournament until further notice.
Fiji Police Force Acting Commissioner Rusiate Tudravu issued the order yesterday to suspend the team after its players were involved in a scuffle againt members of the Raiwasa Taveuni team during their cup quater-final match of the Fiji Bitter Nawaka 7s at Prince Charles Park on Saturday.
Police White was trailing 12-0 when one of its players, Watisoni Sevutia, who is also a Suva rugby rep, threw two punches at Raiwasa Taveuni player Manueli Maisamoa, who fell to the ground. Sevutia was alleged to have continued his assault when Maisamoa was on the ground.
Images of the incident have been highlighted on the media and social media since it happened.
Now Tudravu, in issuing the tall order yesterday to discipline members of the team, said an investigation would be done.
"Those responsible will be held accountable," he said.
"I am extremely disappointed with the actions of those involved because it goes against the principles of why Police are participating in sporting tournaments through Community Policing.
"Police White will not be taking part in 7s tournaments until investigation is done."
The incident is the latest in the list of assault allegations against Police officers. Fiji Rugby Union has also come out strongly against the incident saying it would not condone any violence in rugby.
FRU chief executive officer John O' Connor said it was really disappointing to have a team such as the Police team, which comprised of police officers to display any form of indiscipline character in public.
"It was a disappointing incident, especially since Police White is part of the Super Sevens Series," O'Connor said.
"The series is to try and weed out discipline. In disciplinary process, the Nawaka 7s management had outlined their process so at the moment are reviewing the footage of what had happened and we will await the report that will be made from the Nawaka 7s management.
"After that we will make our decision on what disciplinary action will be taken against the Police White team.
"We will then make the decision in relations to the penalty that will be given.
"This illustrates that Fiji Rugby Union never condones such behaviour in any rugby competition. There are consequences and it will be dealt in the right way.
"There is no place for such unruly behaviour which compromises the safety and welfare of our players."
Fiji 7s men's coach Gareth Baber said on Saturday he was disappointed because Fiji Police White was a good team.
Late last year, Naitasiri under-19 player Keresi Maya was banned from all levels of rugby for six years for assaulting a referee on August 29 during the Skipper Cup competition.
Meanwhile, Fiji Warriors won the tournament beating Fiji Barbarians 24-12 in the cup final.