ONOC President Dr Mitchell to run for ANOC Presidency in 2022 election
25 October, 2021, 5:48 pm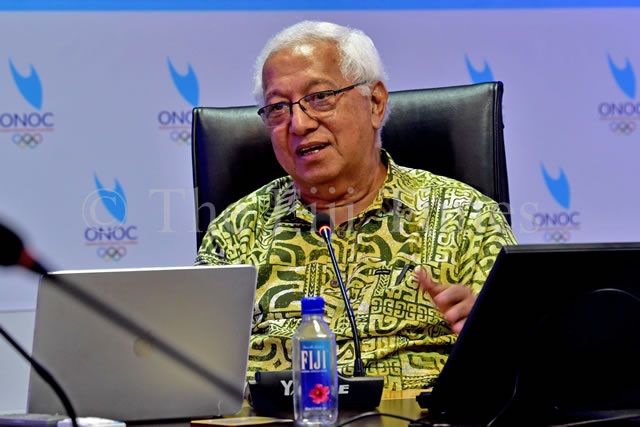 CRETE, 25 OCTOBER 2021 (INSIDE THE GAMES) – Acting Association of National Olympic Committees (ANOC) President Robin Mitchell has announced he intends to stand for the role on a permanent basis when the organisation holds elections next year.
The Fijian, a member of the International Olympic Committee (IOC) Executive Board, has led the umbrella organisation in an acting capacity since 2018 after Sheikh Ahmad Al-Fahad Al-Sabah was charged in Switzerland with forgery.
Panam Sports President and IOC member Neven Ilic has also indicated he may run for the top job in the election, due to take place during the 2022 General Assembly.
The vote will herald a new era for ANOC following the tenure of Sheikh Ahmad, who had led the body since 2012.
Sheikh Ahmad was last month sentenced to 14 months in prison, with 15 suspended, by a court in Geneva after being found guilty of forgery, together with three lawyers and an advisor, following a plot to make false videos to damage members of the Kuwaiti Government.
The Kuwaiti powerbroker, who denies wrongdoing and is appealing the verdict, eventually stood aside as ANOC President in 2018 after being charged, despite an impassioned plea from numerous National Olympic Committees for him to remain.
Sheikh Ahmad was replaced on an interim basis by Mitchell, who will have been ANOC President for a full four-year term by the time of the 2022 election.
Dr Mitchell told members of the ANOC Executive Council that he would be a candidate for President at the General Assembly in 2022, the venue for which is due to be announced.
The 75-year-old is a longstanding IOC member – he was first elected to the organisation in 1994 – and has become a trusted ally of IOC President Thomas Bach.
He sits on the IOC's ruling Executive Board as the representative for ANOC and has been head of the Oceania National Olympic Committees for 12 years.
Dr Mitchell could face a challenge for the Presidency from Chile's Ilic, head of Panam Sports since 2017.
Ilic, considered a rising figure in the Olympic Movement, has been touted as a candidate and hinted at a run for President in a recent interview with Spanish news agency EFE.
"There are many very capable people, but obviously there is availability," he said.
"If in any way I can serve in that mission, I am available.
"I am very ingrained with what I am doing in Panam Sports, I like it a lot and I still have many challenges.
"ANOC requires complete dedication, so we will see who can do the best job and that person should be the one who leads ANOC," he said.