Only talking not enough, says Rabuka
27 October, 2021, 12:01 pm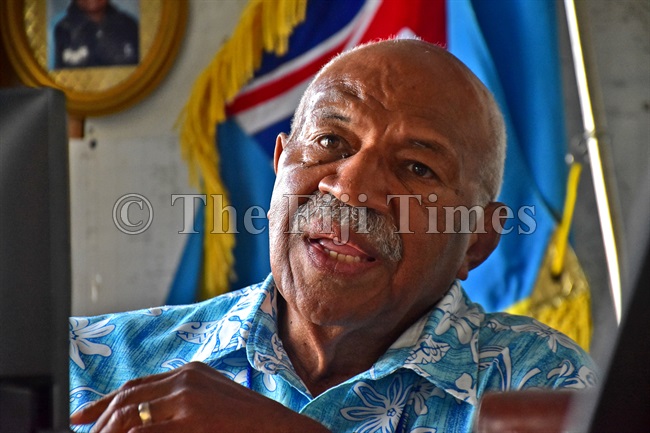 Former prime minister and leader of The People's Alliance party Sitiveni Rabuka said it was not enough to travel thousands of miles to major talkfests when we still have so much pollution and toxic emissions in our own country.
He said Prime Minister Voreqe Bainimarama was expected to jet off overseas with a large contingent to represent Fiji in Scotland at the international COP26 meeting.
"As I said in my Fiji Day message, it is not enough to make expensive trips over hundreds of thousands of miles, over hundreds of countries spending thousands and thousands of dollars and spend hours just saying what this to major talkfests, the kind the famous young environmental activist Greta Thunberg describes as full of blah, blah, blah, blah," the statement on his official Facebook page read.
"We just spend money and time going all the way there just to say blah, blah, blah." Mr Rabuka said Mr Bainimarama was aware of the Fijian metaphor "Tekivu mada I Jerusalemi (Start in Jerusalem).
"Mr Prime Minister you are aware of the saying, Tekivu mada i Jerusalemi. What we need right now are immediate results at home, starting with a cleaner Fiji.
"Has the Prime Minister noticed a new oil spill at Draunibota bay at Lami? What does he plan to do about it? When will he be acting to clean up the polluted Suva Harbour and coastline? Why has his Government failed to remove the tons and tons of litter scattered across the Fiji countryside? Why has it failed to reduce the toxic emissions spewed out by buses and other vehicles? Why must we wait till 2050 to tackle this?"
Mr Rabuka said the party would have strong policies on the environment while giving much greater attention to fixing the problems that stare us in the face.
Meanwhile, the Department of Environment is yet to provide an update on its investigation regarding the oil spill at Draunibota bay in Lami.
Pictures posted on Facebook by the Suva Harbour Foundation a week ago showed an oil spill at the Water Police jetty in Lami, appearing as if the oil came from the jetty.
A resident in the area had claimed that a group of women had emptied the contents of some containers and they were probably full of oil that came from the derelict ships on the other side of the bay.