Mining slows down
5 December, 2018, 11:06 am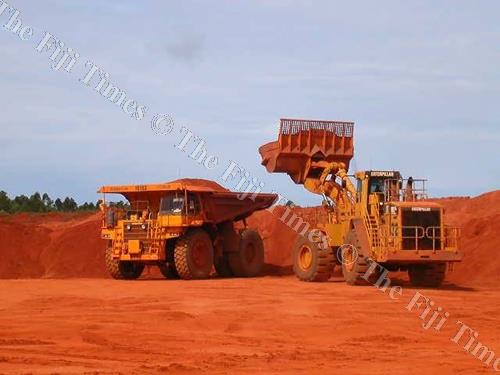 BAUXITE mining had raked in a gross income of $58.9 million from 26 exported shipments since 2012.
Land and Mineral Resources Ministry permanent secretary Malakai Finau said 22 shipments were from Nawailevu mine and four from the (Naibulu) Dreketi mine.
"Since bauxite mining commenced in 2012, 22 bauxite shipments were exported from Nawailevu," he said.
"For Naibulu mine, where mining commenced in 2016, a total of four shipments have been made."
A team from this newspaper visited the area of bauxite operations in Bua and noticed that work had slowed down.
The team noticed the barge used for carting bauxite to the mother ship from China were docked at the company's (Aurum Exploration) jetty in Navakasiga and the bauxite stockpile area also vacant.
Trucks carrying bauxite from the mining site to the jetty no longer frequented the Nabouwalu Dreketi highway.
However, Mr Finau has clarified that work has only scaled down but not ceased.
"The operations at the mine have not ceased," he said.
"For the first mining lease in Nawailevu, Bua (SML 59) it is divided into two separate mining areas, namely Nawailevu North and Nawailevu South.
"Nawailevu South was the main mining area within this mining lease and is currently under rehabilitation as the bauxite resource has been mined out or depleted.
"For Nawailevu North, the bauxite resource is of low quality and the company has plans to revisit its economic assessment in future."
For the second active mining lease, which is in Naibulu, Dreketi (SML 61) Mr Finau said operations have not stopped but scaled down at the moment to focus on exploration and progressive rehabilitation of mined areas within the mining lease.
Mr Finau added the company were also focussing on reconfiguring the processing facility to improve bauxite ore processing with the objective of attaining higher grade saleable material.
"And also ensure safety of operations as recommended by mineral resources department," he said.
"The mining lease holder, Aurum Exploration had made a business decision to reassess mine plans as how best to economically extract and process the low grade ore the company had encountered within its mining lease."
On the international market price, Mr Finau said this was not a problem.
"The problem is not the international market but the low quality of bauxite resource at Naibulu," he said.
"In addition the quality of bauxite is also another considerable factor where the company faces stiff competition from major bauxite exporting countries such as Australia and Indonesia who have high grade bauxite ore.
"Higher grade bauxite incurs low processing costs which is attractive for the international market. Aurum Exploration is exploring options in terms of securing buyers for its bauxite resource.
"There are potential buyers but the catalyst for finalising a bauxite sale agreement is the bauxite quality, hence the steps taken by the company to improve its bauxite beneficiation facility, which should result in improved economic value of bauxite.
"Target is to secure a buyer and resume bauxite shipment in the first half of 2019."