Mara trial begins
27 October, 2020, 9:15 pm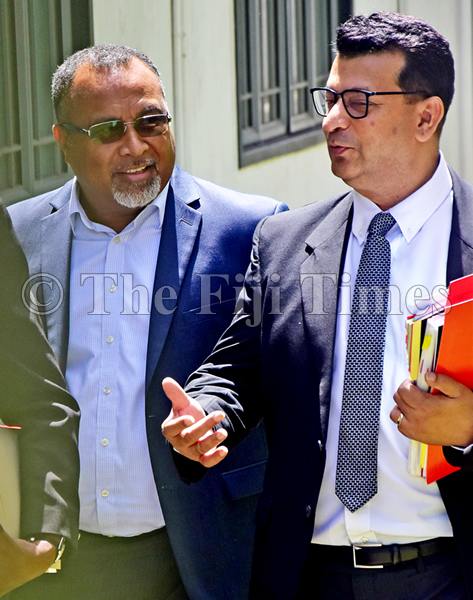 Devanesh Sharma, lawyer for former ambassador to the United States Solo Mara, yesterday argued in court that a raid conducted by the Fiji Independent Commission Against Corruption (FICAC) on the night of January 24 this year against his client was done illegally.
Mr Sharma made the allegation while cross examining FICAC second witness, team leader investigations Mosese Matanisiga yesterday during day-one of trial at the Magistrates Court in Suva.
Mr Matanisiga was assigned to lead a team which conducted a search at Mr Mara's residence on January 23 and January 24.
Mr Sharma questioned Mr Matanisiga as to why the search warrant had been executed at night on January 24 as there was no authorisation from a magistrate to do so.
He further said the search, seizure, arrest and remand of his client by FICAC was done illegally. Responding to Mr Sharma, Mr Matanisiga told the court the search warrant had been executed legally and added the FICAC team was at Mr Mara's residence before 6pm, however, Mr Mara had arrived home after 6pm.
He also told the court the FICAC Act allowed them to conduct searches at night.
Mr Sharma referred Mr Matanisiga to a statement he had made to FICAC dated January 26, 2020 where he confirmed that during FICAC investigations, they did not have evidence that Mr Mara was accessing his personal email account from his mobile phone.
Mr Matanisiga also revealed in court that the second search was executed by FICAC at 6.42pm at Mr Mara's residence.
He told the court they had seized other devices including laptops, computer and iPads from Mr Mara's house.
While referring to his statement, he told the court Mr Mara had been arrested for disobedience of lawful orders at 9.26pm and was taken to the FICAC office where he was kept in remand that night.
Mr Matanisiga told the court Mr Mara had refused to reveal the password to his personal email account and declined to offer passwords to other seized electronic devices which he could use to access emails.
Earlier, Mr Matanisiga told the court the warrant on January 23 gave FICAC the authority to obtain Mr Mara's usernames and passwords for his personal email and the email address linked to the Fijian embassy in the US.
He said he had led a team to Mr Mara's residence, identified themselves to him and read the contents of the search warrant to Mr Mara.
Mr Matanisiga said FICAC had information that Mr Mara, while serving as the Fijian ambassador to the US, had allegedly used his personal email for official correspondence.
He said after informing him about the warrant, Mr Mara spoke to his legal counsel following which he was advised by his counsel not to divulge any information about his email accounts.
Mr Matanisiga also said they had seized his mobile phone after this refusal. It was later revealed in court the warrant was executed at 7.34pm on the night of January 23 and was authorised by a magistrate to be conducted at night.
Mr Mara was charged by FICAC in January with one count each of disobedience of lawful order and giving false or misleading information.
He was granted bail.
The trial continues today.