Maiden speech by Opposition MP, Peceli Vosanibola
30 November, 2018, 6:33 pm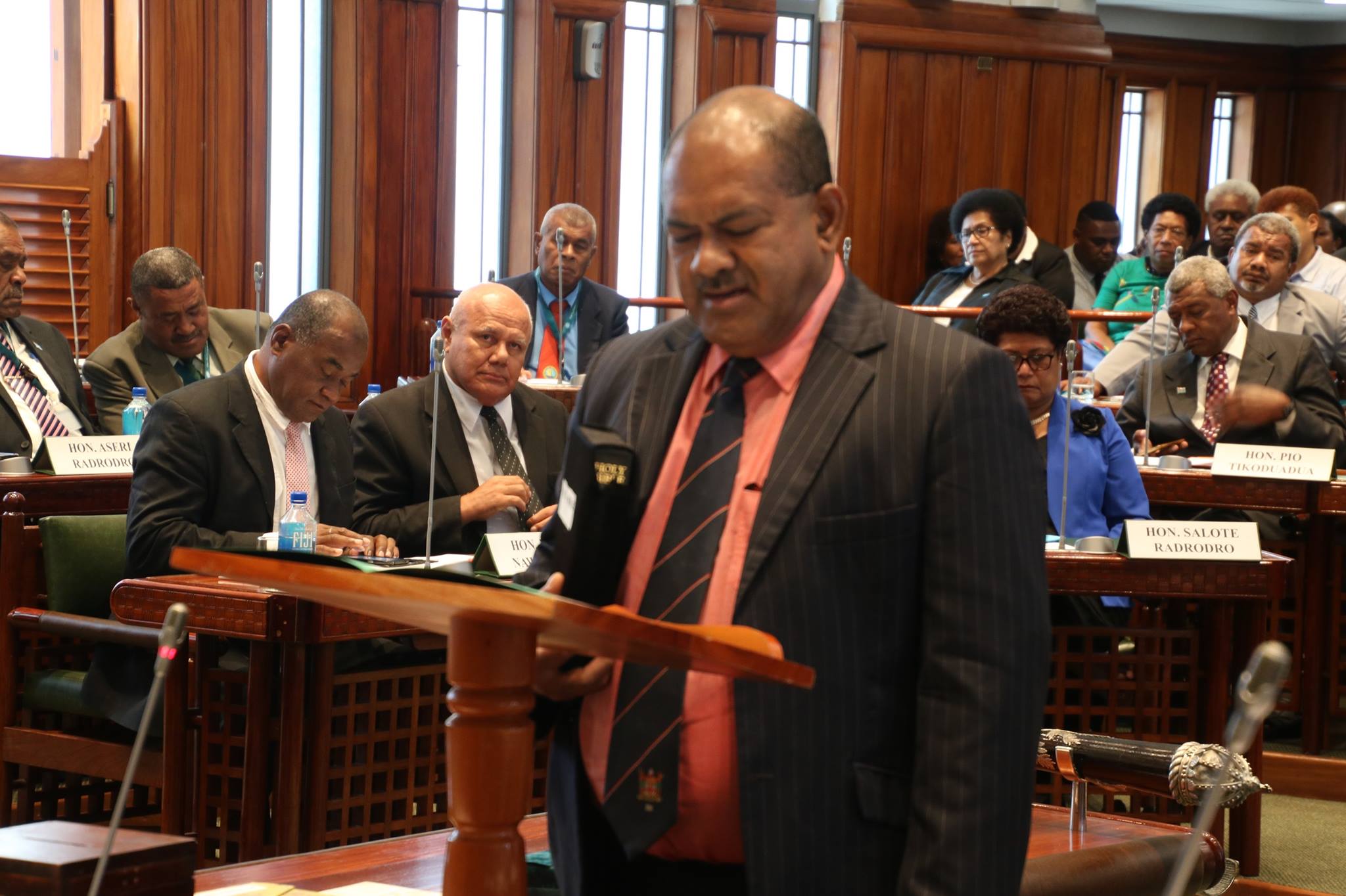 Madam Speaker, Cabinet Ministers, the Leader of Opposition and honourable members of the House; first and foremost I acknowledge the grace of the Almighty God, the son Jesus Christ and the Holy Spirit for the unfailing and unconditional love granted to me and my humble beginning in life through traditional and spiritual upbringing by my late grandparents Mr. Simione and Mrs. Sera Dau Bakani,  my late dear mother; Mrs. Inise Vosanibola thus ultimately  chosen to be a member of this august House.
Madam Speaker,  I rise as the last speaker from this side of the House in submitting my contribution  on the motion before the House and wholeheartedly thank his Excellency the President for the opening  Address towards the first session of this Parliament on the 26th of November, 2018.
Madam Speaker, may I also congratulate you on your second term as Honourable Speaker of the House and also Hon. Veena Batnagar as the Deputy Speaker.
Madam Speaker, On that note, I would like to take this opportunity to wish you a rewarding and productive tenure of Office, and express my confidence in your ability to always conduct the business of the House fairly and impartially, in keeping the decorum and dignity of this august House.
Madam Speaker, the debate during the last three days has empowered and strengthened my capacity as a member of this august House.
Madam Speaker, the period leading upto the General Election has been a time of change and a challenging one for me with new lessons learnt in regard to Politics. I have been helped in this by the faith that has sustained me throughout my life. Love through Jesus Christ which is the source of my transformation and I entirely depend on Him to guide me in what is right before God and in my relationship with others, in my family, at work and in the society as a whole.
Madam Speaker,  I will just add that I am far from perfect in my faith as I often stumble and fall, but I will never stop striving to serve God in the best way I can, to honour Him and to serve the purpose for which he has called me. I know in my heart that what has transpired during the challenging period leading upto the General Election is part of Gods plan on me and the people of Fiji. He has given me a part to play in this and I cannot refuse Him.
Madam Speaker, My Christian beliefs tell me that for the great journey in this august House it requires togetherness to succeed, our individual and collective human efforts are not enough. We must place our trust in the Almighty and seek His blessing and support.  A brief prayer before the try conversion by Waisale Serevi, I believe he was solemnly saying " Lord I cannot do this alone, I place my trust in You and let your will be done. I think it applies  very much to Fiji at this time. Let us be a God-fearing nation and let his will be done to this Land in which we strongly believe, through our different faiths, in the power of the Almighty.
Madam Speaker, the holy bible tells us that there is a time for everything, therefore, we are chosen to change the way we conduct our politics and how we deal with national issues. We are called to cooperate with positive engagement rather than confrontation and ill will. It is time now to move away from the hard-edged and provocative language and action which have been a trademark of this House during the last four years.
Madam Speaker, I would also extend my sincere gratitude and congratulate His Excellency the President being an Ambassador towards Communicable Disease in Fiji.
Madam Speaker, The Pacific Health Ministers meeting held in Honiara in 2011 declare NCD crisis in the Pacific. Pacific Island countries are alarmed to be most vulnerable on health and social consequences of the slow action against the disease.
Madam Speaker, the future generation will suffer the full brunt of the Non-communicable Disease burden and the government will face long term financial burden of large budget proportion allocated in addressing never ending treatments and medications if control measures are not implemented by all stakeholders.
Madam Speaker, the health environment have undergone a massive transformation over the last two decades which has promoted countries to invest in Research to respond accordingly. Our people are been exploited to more cheaper goods that are unhealthy, people are eating under nutritious meals, increased tobacco and alcohol consumption, work stress and lack of physical activities.
Madam Speaker, Fiji currently faces a wide array of  issues under Non-Communicable Diseases such as the highest incidence of diabetes,  obesity, eighty percent of all deaths reported  were due to NCD. Research shows that the productivity of overweight and obese employees is much lower than employees in the healthy weight category.
Madam Speaker, the first line of response to the crisis has traditionally been seen as the responsibility of the Ministry of Health. The importance of a concerted effort in fighting the crisis as a team to consist other key stakeholders in the public as well as the private sector. Therefore, I acknowledge and thank the former Minister of Health and staffs for the NCD intervention programs implemented together with the relevant stakeholders.
Madam Speaker, Due to the continued increasing cases of our citizens suffering from Non-Communicable diseases I duly recommend that there is an urgent need to revisit the holistic and collaboration approach in tackling the crisis as coordinated by the Wellness Unit of the Ministry of Health. The approach is in line with Healthy Island concept which was declared at Yanuca Island in 1995 by the Ministers for Health in the Pacific and it's vision which is still relevant today; I quote; Children are nurtured body and mind, Environment invites learning and leisure, People live, work and age with dignity, Ecological balance is a source of pride and The oceans/rivers which sustain us must be protected. Unquote
Madam Speaker, I commended the health care facilities and programs to be implemented as highlighted by the Hon. Assistant Minister of Health. Nevertheless, the Health Services and it's programs throughout the Country needs a massive review and evaluation of the NCD intervention programs commencing from primary, secondary and tertiary health care.
Madam Speaker It is unfortunate to note the occurrence of meningococcal disease outbreak and the 1,854 confirmed cases of dengue fever this year alone, it  underscores the lack of political commitment to reform and upgrade our health and hospital services and facilities, rather encouraging the participation of the private sector in governments core business as announced by the Minister of Economy this year.
Madam Speaker , this defeats the goal of universal health coverage, because it will place basic health care services beyond the reach of majority of our population. It is the responsibility of the Government to provide basic health care services to all it's citizens.
Madam Speaker, I believe that " Health for All " has been our guiding vision for the last four decades of development in Fiji by our founding fathers. International experience have shown time and again that universal health coverage is achieved when political will and commitment are strong.
Madam Speaker, as usually highlighted to by the other side of the House that no citizen or Fijian to be left behind on government's service provision. The advice given to the Lomaiviti lady by the Honourable Prime Minister to seek post- cyclone Winston rehabilitation assistance to the Provincial Administrator for the fifteenth time, the slow progress on Cyclone Winston rehabilitation  and the continued usage of tents in villages on Koro Island  , the continued usage of tents in Naigani Village, Batiki Island, the incomplete machinery landslide debris clearing, destroyed school buildings and villagers still dwell in tents at Dreketi Village on Qamea Island clearly  contradict that statement.
Madam Speaker, may I request the other side of the House to review their coverage and the status of service delivery for the last four years and always provide service to all Fijian fairly not taking into account their political affiliations.
Madam Speaker, I wish to highlight some issues that needs action by the responsible Hon. Minister on the other side of the house such as :-
The construction of the Nairai Island jetty as committed by the Hon. Prime Minister.
The reticulation piped water supply system for the ten villages on the island of Moturiki.
The re-establishment of the existing Public Works Depot with permanent staffs and road works machines on the islands of Koro, Gau, Ovalau, Kadavu and Lakeba
to ensure constant road works upgrading and maintenance.
A re-visit to the 14 villages on Koro Island, Naigani Village on Batiki Island and Dreketi Village on the island of Qamea to assess the status of post-cyclone rehabilitation works including schools.
 Madam Speaker, I wish to acknowledge the kind support of the people of Fiji towards the General Election, and indeed to all honourable Members of this august House; of whom I offer my congratulations. I also wish to put on record my sincere gratitude and deep appreciation to my wife; Taraivini Vosanibola and our four children, my parents; Mr. Josefa and Mrs. Ana Vosanibola and my six siblings with their families, family members in overseas, Turaga na Tui Tomuna; Dr. Isoa Bakani and families, the Nadera Methodist Church Sector namely Mataqali Ifireimi , the Circuit Minister, Chief Steward and congregation of  the Nadera Methodist Circuit, the SODELPA Awareness Officer;  Mr. Vili Nagia Raduva, the untiring Mr. Kalivati Bale, the Lomaiviti SODELPA President, Mr. Nemani Rasea , Mr. Jiuta Vateitei, Watisoni Cakau of Ovalau Island, Mr. Epeli Matata , Miss Eleni Luvenitoga and Mr. Sakaraia Koroi of Koro Island , Mr. Marika Tauva, Mr. Ame Vosakoto, Mr. Ilaisa Verevou, Mr. Aporosa Mataitoga, Metuisela Raitaukala Mr.Timoci Vinakadina and Mr. Solomoni Vuniyaro of Gau Island,  the one hundred Party Polling Agents for their prayers, support , transportation , assistance and the effective observation on the election process.
Madam Speaker, I also wish to put on record the people and chiefs in the province of Lomaiviti may I quote;  the Turaga na Ratu mai Bureta , Turaga na Ratu mai Moturiki, Turaga na Tui Wailevu, Turaga na Rokotakala, Turaga na Tui Levuka, Turaga na Takalai Gau, Turaga na Ratu mai Navukailagi, Turaga na Tui Vanuaso, Turaga na Tui Nairai  Turaga na Toranibau, Turaga na Mata ki Mudu and Turaga na Ratu ni Cawa for their ultimate decision and trust in placing their votes on me to become a Member of Parliament in the Republic of Fiji have been sincerely  acknowledged.
Madam Speaker, at this juncture I convey my thanks to the 192 voters from the Central Division, 3,454 voters from the Eastern Division, 35 voters from the Western Division, 17 voters from the Northern Division and 32 Postal Voters locally and abroad for placing their trust and votes to Candidate 527.
Madam Speaker,  I wish to assure you that the honourable members on this side of the house will continue to champion your interest and aspirations . In summing up, I wish to conclude with a quote by the former French President, Charles De Gaulle who had this to say and I quote : The graveyards of the world is full of men who were once considered or those who considered themselves to be indispensable. I urge all Hon. Members in this House and those aspiring to be leaders of this nation in future to  give a thought to these words of wisdom because arrogance, childish behavior, egocentric mentality, confrontational attitude and selfish have no place in nation building or in this august House.
Madam Speaker, this brings to me one last quote from the former Prime Minister of Fiji, the late Dr. Timoci Bavadra, I quote : With humility and honesty, that is part of our living tradition, we must serve the people of the land. That challenge is for all of us. National development plans must ensure that interest of our masses becomes paramount. If the ordinary people loose faith through unfair and inequitable policies, then the future is fraught with uncertainties. Unquote
These words of wisdom reflects the respectable culture that chiefs, leaders and elders have taught us, bequeathed us in legacy and deployed to lead us out of and overcome every conflict situation and keep on moving forward as a nation who people desire and have always enjoyed a degree and measure of freedom, justice, prosperity and unity.
Madam Speaker :  I have the honour to support the motion before the House and I also wish you, all the Hon. Members and members of the Parliament staff a Merry Christmas and a fruitful New Year.
Thank You Madam Speaker.
Watch President's speech at the opening of Parliament