Letters to the Editor: Wednesday, December 8, 2021
8 December, 2021, 11:00 am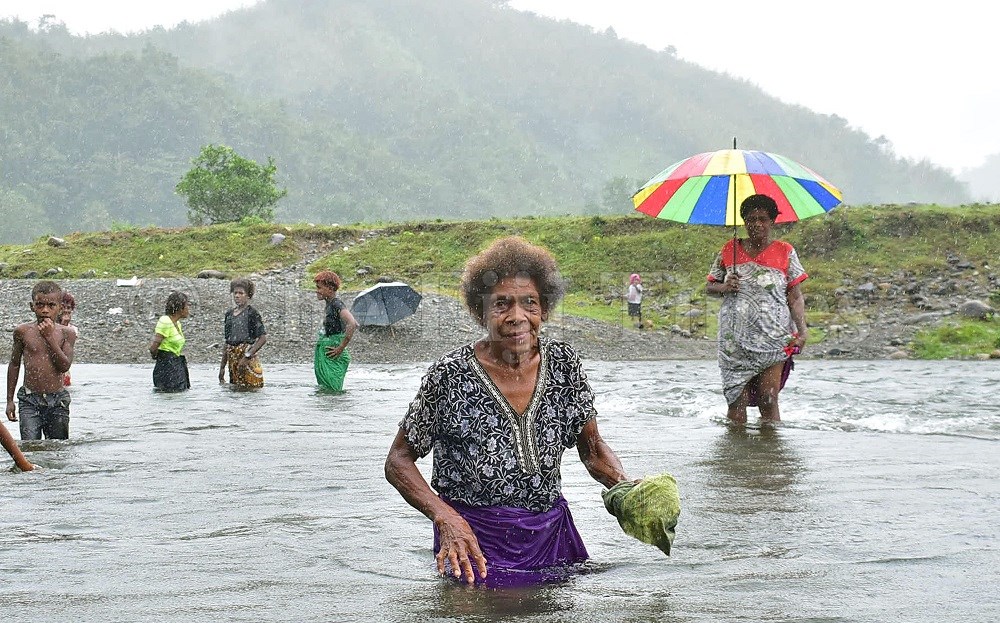 A wish for a bridge!
Waibasaga villager Manaini Lewasariri, 70, has a wish that a bridge is built across the Wainimala River. Lewasariri, who has been using the river for most of her life, has been carrying her children, grandchildren and great-grandchildren.
Via yesterday's The Fiji Times, she shared the ordeal she went through as she recalled fighting the icy currents of the Wainimala River while she carried her eight children to school piggybacked.
She shared the challenges women in remote areas such as Waibasaga Village faced. These challenges, ironically, are not the first time to be raised by the people's newspaper, but I'm grateful the villagers are using The Fiji Times platform to air their concerns.
It was also disturbing to read that the students and teachers of Muaira District School in Naitasiri have to walk for an hour up a steep hill to gain access to the internet to obtain learning materials.
Isa, the difficulties faced by our fellow Fijians who stay in remote areas.
Hoping and praying that their concerns will be addressed in the near future. Rajnesh Ishwar Lingam Nadawa, Nasinu
Polluted rivers
As a citizen of this country I would like to state the fact that I have seen too many polluted rivers throughout my days. This type of pollution will no doubt truly embarrass our nation.
It is time to get really serious with this issue because not only will it affect life form but also can affect us in numerous ways.
I just realised that there have been numerous warnings about this pollution but I think most of us just ignored this issue.
If I had to comment on something in general, all I can say is that we better start working our way up before it's too late for all of us. KELEPI DAKUIYACO Waikalou, Serua
Political parties
I am not sure whether people realise that all ethnically-based political parties, since independence, are either dead or are in the process of suffering a slow and painful death. So, what does that tell you about such political parties?
I believe we have Fiji's newest political party set up along the same lines by the same old, same old.
People from the dying party are now moving to join the new party and there is great anticipation that more will be proudly jumping ship soon, once they have collected their full parliamentary salaries and entitlements. Interestingly, it is not the first time many have jumped ship.
There appears to be a presumption that the people who will jump ship will leave their back-stabbing and bickering bad habits in the old party. If people believe that, they must be blind, deaf or plain dumb. More likely all of the above.
And what of all the people who will vote for them? Like I have said many times before — in a country where there is freedom of speech, freedom of expression and freedom of choice, people are free to be stupid if they so choose.
I, for one, will always defend their right to make that choice. Jan Nissar NSW, Australia
Duty on fuel
LABELLING the call from NFP leader as stupendously stupid the A-G said that immediately removing the 20 cents per litre fuel tax would leave a $56 million hole in State revenue (FT 2/12).
It seems to me that greater priority is placed on revenue than the welfare of its citizens. The bone of contention here is that we are not asking for the removal of the duty but its reversion to the pre-COVID rate.
Therefore, there is no need to sidetrack the issue.
When announcing the duty increase during his COVID-19 Response Budget in April, 2020, the Minister for Economy said that thanks to a dramatic reduction in the price of fuel, Fijians will still pay lower rates for fuel than they do today.
But the scenario has dramatically changed now. The global fuel price has gone up much higher than before and is likely to continue rising upwards as the demand escalates.
If revenue is so important then why was excise duty on alcohol reduced by 50 per cent and import duty on used hybrid cars cut down by 75 per cent? Haven't that created a dent in national revenue?
Which is more essential and a basic necessity to consumers? Alcohol or kerosene?
For God's sake let's get our priorities right please. SELWA NANDAN Lautoka
False promises
It really captured my attention when I read that the villagers in Naitasiri stated that "we don't want any politicians coming here and making false promises".
With election around the corner there will be many politicians marching their way with huge list of priorities. It made me laugh and wonder when there are true realisation by people who suffered over the years.
It made my day to read… "we don't know where the book went?"
It will be exciting to see more things developing as the election comes near!
The choice is yours! Rouhit Karan Singh Lautoka
Sarcastic name calling
The misogynistic sarcastic name calling FT 04/12 by our Government MPs' side of the house against Opposition female MPs is very annoying, and unparliamentary, and a hit below the belt by these leaders of our country.
First, it started with our honourable PM a few months ago when he said that whenever MP Qereqeretabua talks, it is as if butter would not melt in her mouth, then honourable Minister of Agriculture criticised the way honourable Tabuya dressed in Parliament and a few days ago, he labelled MP Qereqeretabua as a drama queen.
These words spewed out from the very people who are leading our nation and they are supposed to protect our women and girls from further discrimination, violence and inequalities at all times.
You two male MPs owe an apology to the women and girls of Fiji including your female family members as we go through the 16 days of Activism on Elimination of Violence Against Women and Girls globally.
It's time to issue yellow and red cards in Parliament. Jioji M Cakacaka Tadra-Votualevu, Nadi
Mickey Mouse event
Ironically, the Mickey Mouse event, as claimed by dear Jan Nissar, was attended by as many as 100,000 fans and was televised live around the globe with millions of viewers.
The Mickey Mouse event was attended by Australia, who won silver and gold medal in the men's and women's competition, South Africa, France, the USA Eagles, Argentina, Ireland and Team Great Britain.
There was so much joy and delight — emotions flowed openly as the Aussie women made a remarkable back-to-back in the Dubai heat.
Former world class players — Rob Vickerman, Pio Tuwai, Santiago Comez Cora, Osea Kolinisau and Waisale Serevi, and coaches like Neil Powell and Ben Ryan also attended the Mickey Mouse event which was a hit.
But then, I guess World Rugby is wasting its time, resources and funding organising these Mickey Mouse events, the next to unfold in Spain. There is already much hype and excitement in Malaga as they prepare to welcome top class coaches and players into their country.
The Mickey Mouse event is close to the heart of every Fijian dear Jan Nissar.
By the way, thanks for your letters.
I never miss reading any of them, Jan. Rajnesh Ishwar Lingam Nadawa, Nasinu
Put money where mouth is
I refer to the letter by Jan Nissar, FT28/11, regarding a number of people writing in this column from coming anywhere near South Seas Club.
Jan, I have put my money where my mouth is in responding to you, unfortunately memory loss had got the better of you. How about this time around you put your money where your mouth is.
Just confirm through this column what your status is at South Seas Club?
I met a guy by the name of Jan Mohammed at Lautoka Golf Club who reminded me of Donald Duck, the popular cartoon character created by The Walt Disney Company and appeared with Mickey Mouse in Orphan's Benefit.
Apologies in advance if you are not the same person as Jan Nissar.
This time do reply. Finally, 7s rugby action is back at its best, there is nothing Mickey Mouse about this very popular code.
Go Fiji go. Raymond Singh Golf Links, Lautoka