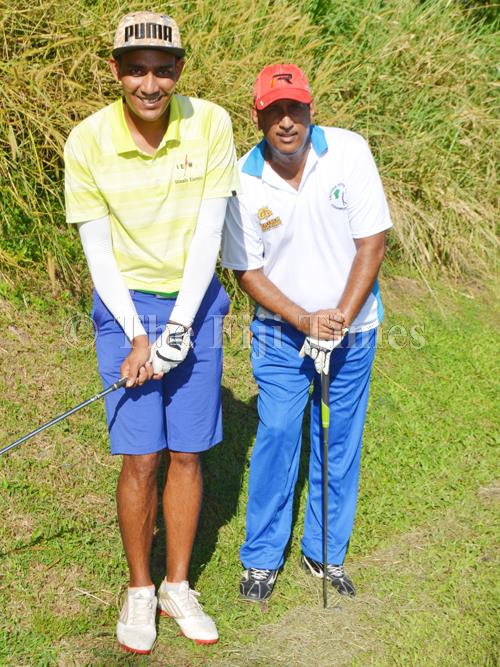 THE Lautoka Golf Club will commence its 2021 Summer Cup season today which is generously sponsored by Amigo Traders.
The 18 holes individual stroke event will see all the top guns participating in the A, B, C, beginners and juniors category to vie for top honours.
Club executive Raymond Singh commended generous sponsor Chen Koulong for starting the official summer cup season.
Chen, an avid golfer and playing out of the Denarau Golf & Racquet Club is passionate about the junior development golf program, in particular to invite school students in taking up the sport.
"Apart from the main prizes, there will be a host of novelty and lucky draw prizes," Singh said.
Consistent performers Ram Reddy and Dennis Singh start as strong favourites alongside Suren Pillay, Parveer Chand, Lawrence Naidu, Abid Hussein, Gaffar Ali, Vinesh Murthi and Asish Kumar.
"Despite the wet condition, the fairways and greens are in top condition with excellent scores to be the order of the day."
Singh said tee-off is between 12.15pm – 1.15pm.
Meanwhile, the Ratsun Nadi Airport Apartment Hotel-sponsored 18 holes stroke Pro- Am championship saw history created at the club course last Saturday.
The Chinese new year celebrations turned out to be lucky for the father and son combination of Abid and Baroon Hussein.
National golf rep Abid nailed the amateur category with Baroon grabbing the professional division title.
Abid posted 70 gross for a shot victory over Mohammed Rizwan and Rohit Chandra while Baroon forced a play-off against Viliame Sorowale after tieing on three-under par for victory after sudden death.
FNPF IT security engineer Parveer Chand was the outright overall net title winner on 65.
Former national football rep and former Lautoka Blues coach Dennis Singh accounted for the A-grade title on 66 on a countback from Shiva Rajan.
Rohit Chandra was placed third on 67.
Club champion Ansarul Khan hit 66 for the B- grade title pipping Azahar Khan and Subhash Chand on 67.
Newcomer Kelvin Ram tasted victory in the C-grade on 66. Natadola's Avinesh Dutt netted 68 for second spot ahead of Sarfaz Ali, third on 70.
Noor Ali shot 72 to claim the beginners title. Roland Singh was rewarded as the youngest golfer on 127.
NTP on the 2nd hole to Vikash Chand and Senitiki Cakau on the 9th. Asish Chand shot the longest drive on the third.
Denrau Bella Cho was declared the ladies champion on 72.
All the winners were presented their prizes from the chief guest and Minister for Education, Heritage and Arts, Rosy Akbar.
Club president Chong Lee thanked organiser Sanjay Prasad, Babu Rattan Deo and Neeshil Deo for rewarding the golfers amateurs and professionals to celebrate the Chinese new year.
Other results: Rajesh Prasad, Joe Drauno, Senitiki Cakau, Dr Vimal Murthi – 68. Moh'd Rizwan, Asish Chand, Vikash Chand, Saroon Hussein – 69. Daven Mudaliar, Vinod Chand , Manwal Ajay, Bharat Ram – 70. Pritam Singh, Jitendra Sami, Rakesh Kumar, Reginald Ram – 71. Vinesh Murthi, Sajid Khan, Niven Padarath, Noor Ali – 72. Adeel Khan, Navi Vakaruru, Lawrence Naidu, Rakesh Chand – 73. Aariz Khan, Maika Kasami, Alex Mako, Ram Reddy – 74. Professionals: Baroon Hussein – 66, Bill Suguturanga -66, Munesh Prasad – 67, Sam Lee – 68, Ronnel Prakash – 68. Amitesh Chandra – 69, Tomasi Tuivuna -70, Vikrant Chandra – 70, Zoheer Ahmed – 70, Praneel Prasad – 71, Inoke Bolakoro – 71. || 1Lautoka Golf club || GOLF