Kepa points out significant events
10 October, 2018, 11:53 am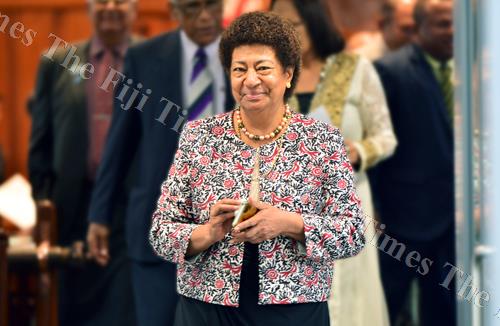 AS Fijians around the world mark Fiji's 48th year of independence today, Opposition Leader Ro Teimumu Kepa says this day is an occasion to remember three significant events that has altered the course of history for Fiji.
The first, she said, was the execution of the Deed of Cession on October 10, 1874 in Levuka by and between the United Kingdom and the 13 high chiefs of Fiji.
"The second event was the Independence of Fiji on 10 October, 1970 which made Fiji join the gallery of free nations in the United Nations and the British Commonwealth of Nations while realising its potential and strategic position in the Pacific to emerge as an influential regional player," she said.
"Seventeen years down the line, Fiji was declared a republic on October 7, 1987 whose declaration, though unprecedented came at a time we were seeking to find answers to a conflict situation where we needed to listen to the voice of our own people for self-determination.
"This empowered our state and its institutions and structures to take decisive actions to implement the intents of the Deed of Cession.
"There is a trail of inheritance from one of these historical events to another making 10 October an important date in our national life."
And with the celebration of Fiji Day today, Ro Teimumu said the world would be watching if we were going to gather the necessary courage to thwart every obstacle that was being put in the way to make Fiji free again and restore the prestige and pride of the nation.
"As we take the solemn pledge to make Fiji free again, we must remember and remain committed to the ideals and principles, values and virtues that were bequeathed to us by our chiefs, forefathers and the founding leaders of Fiji to carve and realise a national mission and vision that will not only reflect our desires and will but will continue to inspire the future generations to instil the sense of belongingness and ownership of our nationhood and be of service to mankind and God as productive citizens," she said.