Hot corns for sale
27 January, 2021, 12:30 am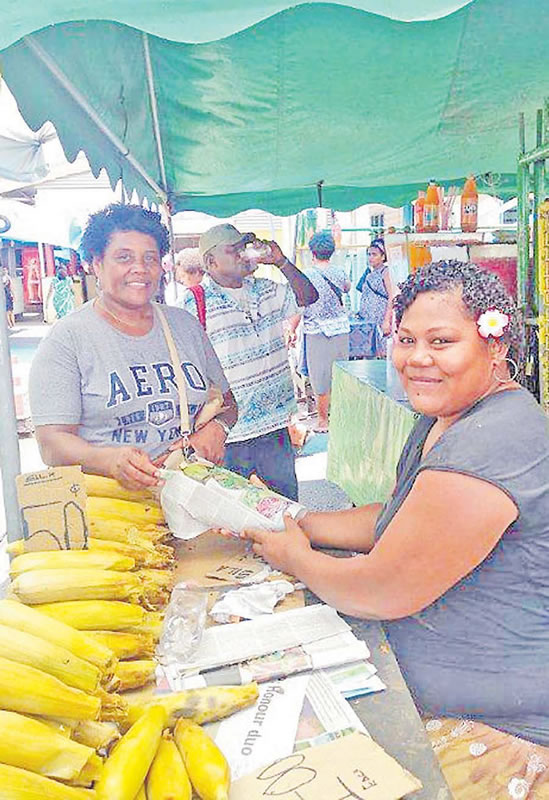 Pursuing her dream to become a civil engineering was cut short when she met the man who would later become her husband while attending Fiji National University in 2017.
Fipemoce Vakanananu from Kocoma Village in Qamea was onto her second semester when she met the love of her life and the rest was history.
She had attended Form 3 and 4 at Bucalevu Secondary School before completing forms 5 to 7 at Niusawa Methodist School in Taveuni.
Her decision didn't go well with her family, but Fipemoce had made up her mind. After their first child was born they moved to Narata Village in Nadroga, where they live today.
It was where she learnt more about selling cooked corn.
She said selling cooked corn was part of life in Narata and it was the main source of income for the family.
Fipemoce said before her husband's grandparents used to hire a carrier and look around for corn and have them cooked and sold at the Lautoka and Nadi municipal markets.
After her husband's grandparents passed away, her in-laws continued the business.
The 26-year-old mother of two said they sold cooked corn at the Suva Municipal Market at a table inside the market.
"Today we are planting our own corn and watermelon and selling it at the market.
My in-laws also plant vegetables and sell them as well, while I sell the cooked corn," she said.
Fipemoce said if they hired a carrier from Nadroga to Suva, it would cost them $300 which is too costly for an individual and that's why they share transportation cost.
"If I brought 10 bags of corn I usually came alone, but if there were more bags I'd share the cost of the carrier with another farmer.
"When my child was two years old, I'd accompany my in-laws to sell vegetables at the Suva marketplace.
Sometimes we harvested our own vegetables from the farm and other times we bought from other farmers in the area."
The corn business began after her second child was born. She agreed to sell the cooked corn outside the Suva market.
"All the money earned from selling cooked corn helped with our daily expenses and soli to the church, vanua and government.
"I was a little shy on my first day, but after a couple of days it became normal.
A lot of people buy fresh corn from us and business has been great.
"I'm more confident now and sometimes call out 'sila ataata' (hot corn) at the jam-packed bus stand area. Another good thing about the job is that I get to meet a lot of people."
She added COVID-19 had its setbacks on the business, but things had picked up quickly this year.
"During the lockdown period a lot of people around the country planted their own food.
We also did the same and even when we couldn't access the markets we still had food in the village.
The lockdown period increased our productivity rate on the land as well."
Fipemoce said growing your own food contributed to a sustainable life for the family because there was always something to survive on.
She didn't dwell on how much she earned, however, she said when the markets reopened the family had produce ready to be sold.
Fipemoce advice to young mothers around Fiji is that nothing is impossible.
"All we have to do is plant on your land Despite pulling out of school Fipemoce said she was content with life and had learnt to accept the decision she made.
She has plans to return to school when her children are older.
For now, she said she would continue to sell corn.