Generations of barbers – Ali continues legacy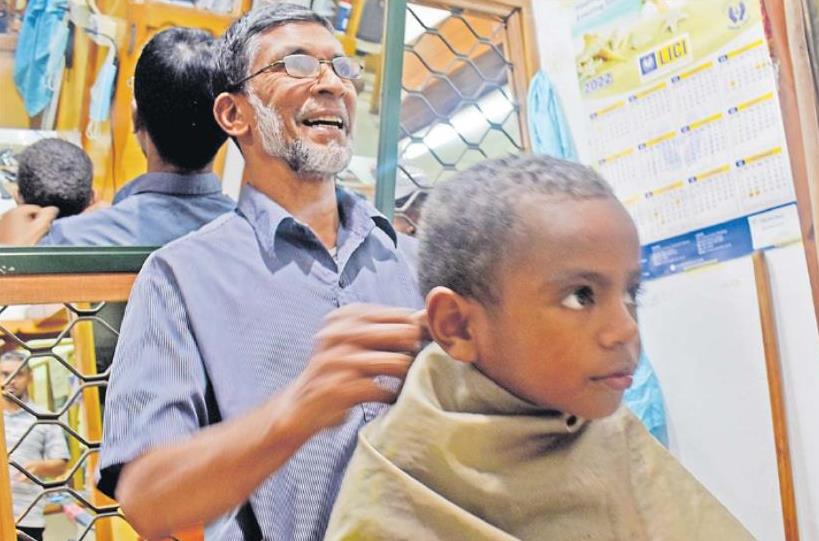 Nausori hairdressing Salon commonly known as Nausori Barber Shop has stood strong since the early 1930s and Mumtaz Irakh Ali is proud of the trade he learnt from his father.
The 62-year-old said he was fortunate to acquire a skill he has used for 48 years which has aided in paving a fruitful path for his children, a path he could not take when he was younger.
He said growing up in a large family proved to be difficult as money was not sufficient to make his dreams into reality. Being the youngest of the two brothers and five sisters, Mr Ali could not demand his parents to provide him with the dream of becoming a pilot.
"I completed my primary school at Nasinu Muslim College then I went to Mahatma Ghandi Memorial High school and after that, I couldn't further anything else," he said.
"During my primary school days, I used to go with my father to the shop and help him so I became interested in cutting hair.
"I needed some money and because my other siblings were at school, I chose not to go to school but my father forced me to continue schooling.
"So during weekends and holidays, I just came and watched and learnt from my father with the hand clippers which I still keep as a souvenir."
But the trade which has made a successful generation all began when his grandfather Mohammed Dami arrived as a girmitya from Uttar Pradesh in the Leonidas, a date Mr Ali is not too familiar with.
He said his grandfather settled down in Vusuya, Raralevu and began an entire new generation in a land that would become home to many.
"My grandfather was a barber by trade when he came from India and my father told me that when his father was out cutting hair he used to go with him. "During that time there was a barter system where groceries or root crops were exchanged, not money."
Mr Ali added his father Mumtaz Ali became good friends with Ratu Sir Lala Sukuna back in those days and helped his father join the Fiji military. He said while his father was in the military service he also was a part-time barber and travelled as far as Tailevu to cut hair.
"When my father used to travel around to cut hair he would be out for weeks and sometimes even months.
"It was after he completed his services in the army that he decided to open a small barber shop in Nausori.
"My father and his brother were the only ones managing the shop during those days.
"After high school, I worked for my father for ten years without receiving any wages and my wife managed her income to raise our children.
"So after some family meeting I spoke with my father and he gave me his shop, I bought the shop from him when I was 34 years old."
In the beginning, he remembered that monthly rent would cost $2.50 compared to the now $1100 expenditure. He also recalled, a single haircut for adults would cost 15 cents and five cents for children.
"Even sometimes we would cut it for free because of certain friendships and if they were poor."
He said some of the memorable moments at the barbershop was when he got to provide his services to the first Fijian Governor Ratu Sir George Cakobau, and other chiefly title holders.
Mr Ali, who is famously known as Babla, is not only respected by the community he provides his barber services, but also in communities that consist of other religions besides Islam.
"I keep my religion together, I work with my religion, I want to be honest, helpful and faithful and I respect other religions at the same time.
"I was the president of my Hindu community in Wainibuku and even participated in Ram Navami and even sang bhajans quite a long time ago."
He said his late wife Alesi Burentewaia was from Rabi Island and together they had three sons and adopted a daughter.
"I got married to my wife when I was 26 years old and my family were against it because of the differences.
"But despite my parent's disapproval, I loved my wife and I still got married to her and she also converted to Islam."
He said right now since his children have gone into their respective professions he is unsure who would continue his father's legacy.
"I will continue right now because this belongs to my father and I don't want to sell it, but there will come a time that I will have to let it go.
"I also need some money for my retirement days and I also want to go and do my pilgrimage and after my pilgrimage, I don't want to work anymore because I want to have time for my religion and for my society."