From the Editor-in-Chief's desk: Your May 19 briefing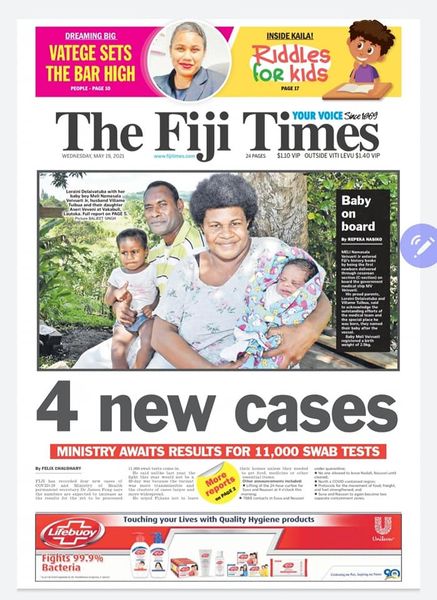 Bula
In tonight's news conference, the permanent secretary for Health and Medical Services Dr James Fong confirmed four new cases of COVID-19 and he warned the numbers are expected to increase as the results for the yet to be processed 11,000 swab tests come in.
He also announced the lifting of the 24-hour curfew for Suva and Nausori at 4 o'clock in the morning, and confirmed the two patients who had been moved to ICU are both responding well to treatment.
There are now a staggering 7888 contacts in Suva and Nausori under quarantine, and no one is allowed to leave Nadali, Nausori until cleared. You can read about this on Page 1.
Now we turn to some of the stories that made the headlines in The Fiji Times' edition for Wednesday, May 19.
PAGE 1
Baby named after MV Veivueti
The other story on the front page is about: Meli Namasala Veivueti Junior entered Fiji's history books by being the first newborn delivered through C-Section on board the Government medical ship MV Veivueti. His proud parents Loraini Delaivatuba and Viliame Tuibua acknowledged the efforts of the medical team that conducted the operation and the special place he was born, that they named their baby after the vessel. Baby Meli Veivueti entered the world at 2.9kg on May 11.
There's more to read on Pages 2, 3, 4, and 5
REFLECTIONS
The announcement by Dr Fong that Vanua Levu was COVID-free today will no doubt inch out sighs of relief from northerners.
Dr Fong announced this in the wake of reports that certain areas in Labasa were sealed off due to a suspected case of COVID-19.
He confirmed they had flagged a potential case of COVID-19 after an individual living in Labasa initially registered a weak positive COVID-19 test result for a sample tested at the Labasa hospital laboratory.
Two retests of the same sample, he said, generated negative results at the same lab.
"While we suspected this was a false positive given the unusual nature of the tests results, we immediately took preventative action to cordon off the area in which the individual resided, as well as sections of Labasa Hospital," he said.
"We also isolated the individual and quarantined and tested his close contacts. They have all since tested negative."
A repeat swab for the gentleman also tested negative and a swab taken two days before the weak positive swab has also tested negative at Fiji CDC.
The announcement though should not make northerners complacent.
In fact we all must maintain vigilance and adhere to physical distancing rules daily.
Fiji's chief medical adviser Dr Jemesa Tudravu urged Fijians to protect their home bubbles and not allow others to infiltrate their safety.
Families, he said, should restrict the movement of people who were not part of their households.
It makes sense that staying in our little bubbles will keep us safe.
We should not allow anyone who isn't part of our little bubble to join it.
We must keep reminding ourselves that the virus cannot move if we stay still.
Let's mask up if we have to travel outside our bubble.
If you are out in public, do not touch your face, even if your nose is itchy.
Wash your hands often with soap and water, and sneeze into your elbow or into a tissue and dispose this safely.
This may not be easy to do, but please do not shake hands and cut out hugging anyone outside your bubble.
There are thousands of people, not hundreds, who want the scenario we are now facing to just go away. They are struggling every day. They want us to engage, and be considerate!
There will be no change to the status quo if we do not adhere to directives from the PS and his team. Please stay home!
PAGE 7
Lockdown relief fund
MORE than 14,600 members have accessed the lockdown relief fund from the Fiji National Provident Fund.
Government unveils response project
GOVERNMENT recently unveiled the Fiji Social Protection COVID-19 Response and System Development Project to support cash transfers to the unemployed and underemployed affected by the pandemic.
Man in court for allegedly attacking wife
A 58-YEAR-OLD man who allegedly attacked and injured his wife using a cane knife last weekend has been charged with one count of attempted murder and was granted bail by the Magistrate Court in Nadi.
New vessel protocol
The Ministry of Commerce, Trade, Tourism and Transport's (MCTTT) new Protocol for 'Movement of Trucks and or Cargo Onboard Vessels (RORO and Conventional Vessels) to the Maritime Islands has disallowed members of the public from boarding the vessel to collect freight – and the crew of a vessel must not leave the vessel for shore under any circumstances,
New rules for cargo
NEW rules governing how trucks can transport cargo on inter-island vessels were announced by the Commerce, Trade and Transport Ministry this week.
Curfew breach.
LETTERS TO THE EDITOR
Check out the letters on Pages 8 and 9.
PEOPLE
Meet Mererai Vatege
In this ever popular section, you can read about: Mererai Vatege is an extraordinary individual. At just 26 years old, Ms Vatege is a lawyer, a labour rights practitioner for the National Union of Workers and since last year has been the Chairperson of the Fiji Trades Union Congress-Youth Committee.
KAILA!
We have reduced the number of pages but the young at heart still have their riddles, jokes and other interesting stuff inside. Check it out!
SPORTS
Salimoni Nasoki misses vau leaves
The big one on the back page is about: Occasionally members of the Kaiviti Silktails can feel a little homesick but none more than forward Salimoni Nasoki as he rehabilitated a high-ankle sprain. "Back home, we have Fijian medicine – and I wished I had it here," the 32-year-old lock said of the leaves of the vau tree – a seashore plant that helps relieve swelling.
GET A COPY
There's a lot to read inside. You'll have to get a copy though to know what we are talking about. Happy reading!
e-EDITION
I have been getting calls from people who miss the newsprint version. In this lockdown period, you could try reading the newspaper on the e-Edition platform. It's easy to hook up via mPaisa! You can contact us for details on https://www.fijitimes.com/subscribe/ or you can call Setaita on 7754078, or on 3304111 during office hours, to assist you.
You could also just follow a few steps and read The Fiji Times a few minutes later, live and direct! Here are the simple steps to follow:
1: Log onto www.fijitimes.com 2: Select the SUBSCRIBE tab. 3: Register. 4: Select mPaisa payment option!
Try it! It's a different experience!