From the Editor-in-Chief's desk: Your April 12 briefing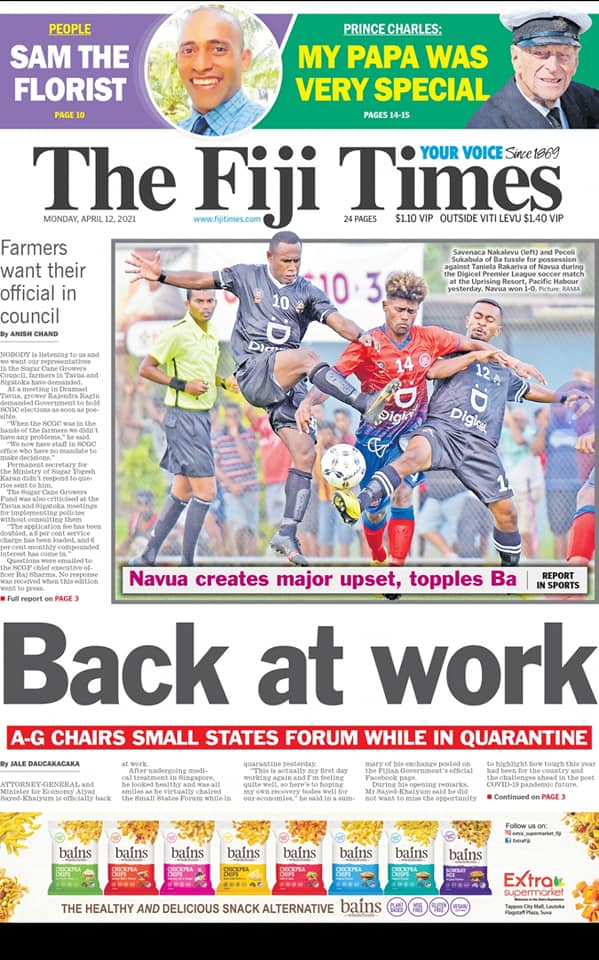 Bula vinaka
Here's a sneak peek at some of the headlines in The Fiji Times' edition for Monday, April 12.
PAGE 1
Cane growers demand
NOBODY is listening to us and we want our representatives in the Sugar Cane Growers Council, farmers in Tavua and Sigatoka have demanded. At a meeting in Dramasi Tavua, grower Rajendra Raglu demanded Government hold SCGC elections as soon as possible.
A-G back
ATTORNEY-GENERAL and Minister for Economy, Aiyaz Sayed-Khaiyum is officially back at work. After undergoing medical treatment in Singapore, he looked healthy and was all smiles as he virtually chaired the Small States Forum while in quarantine yesterday.
PAGE 2
Blood clotting
THE health ministry has the capability of treating patients who may develop blood clotting conditions as a result of receiving AstraZeneca vaccines, says permanent secretary for health Dr James Fong.
Invest in homes
MINISTER for Rural and Maritime Development and Disaster Management Inia Seruiratu is urging people to invest in their homes to reduce the cost of damage from natural disasters.
PAGE 3
Sexual exploitation
COMMERCIAL sexual exploitation of children by family members, taxi drivers, foreign tourists, businessmen, and crew members on foreign fishing vessels has continued in Fiji, states the United States Department of State 2020 Country Report on Human Rights Practices in Fiji.
Re-entry bans
THE Government has used re-entry bans as a de facto means of exiling critics, states the United States Department of State 2020 Country Report on Human Rights Practices in Fiji.
POINT OF ORIGIN
Levuka
LEVUKA was the first municipality proclaimed in Fiji and the township dates from 1877. Commonly known as the town hall, Queen Victoria Hall was built in 1898 in a style that evokes the British colonies and might be found in the West Indies of South Africa as much as the South Pacific.
SPORTS
Check out the Sports pages for results, pictures and reports from around the country.
There's a lot to read about inside but you will have to get a copy to know what we are talking about.
Happy reading!