Football legends help needy in Labasa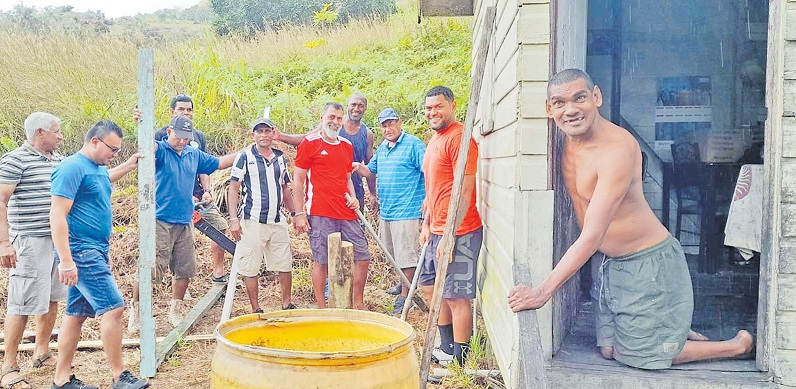 Labasa football legends, a group comprising of former Labasa and Fiji football reps, are helping needy members of society with food, water tanks, and other forms of assistance.
On Sunday, the group built a water tank stand for Jeetendra Prasad, a person living with disability at his Urata home outside Labasa.
The group donated a water tank for Mr Prasad, who used to beg at Labasa Town.
Mr Prasad lives alone.
"I thank the veterans for their kind hearts," he said.
He said he was blessed to have been assisted by the former reps and he would forever be grateful to them.
Former rep Semesa Vilise said the project was identified by officers from the Department of Social Welfare.
"We agreed to help those in need and knowing that the Government can only do much, we believe we can assist in some cases," Mr Vilise said.
"With Jeetendra, we provided a water tank which was donated by one of us.
"We built the tank stand and fixed the floor of his house.
"We all got together last month after one of us got sick and we decided to form a soccer club of veterans to give back to the community."
Mr Vilise said part of their community work included teaching football skills, help conduct training and giving technical advice to young players.
"We were at the soccer academy on Saturday and we will be doing more for the community.
"We have also visited widows of former football reps and assisted them by providing some groceries for their families.
"It is important to help.
"Next week we will elect our office bearers and, once that happens, we will plan our future plans for the community."