Felled tree ruins home
17 September, 2020, 10:15 pm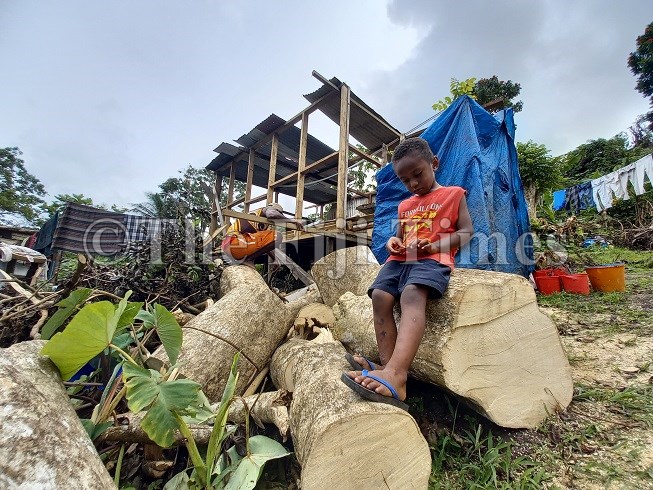 A family in Nabua, Suva, claims a tree felled last week by Republic of Fiji Military Forces engineers had destroyed their home.
Homeowner Semiti Koroi said as a result of the incident, his family was forced to move into a nearby dwelling not fit for human habitation.
He claimed the engineers visited a neighbouring property at Wailailai Settlement on Wednesday last week and began to cut down a tree which fell directly on to their corrugated iron house.
He said his wife and son had to flee when the incident occurred.
"Kalougata ni rau dro bula (luckily they fled to safety)," the 40-year-old man said.
"They (RFMF engineers) told my wife that all the damaged materials will be replaced by them.
"When the incident happened they didn't even bother to ask us where we will be sheltering even though our house was destroyed by them."
Mr Koroi claimed they were not informed prior to the tree cutting exercise.
"They didn't even give us any notice, they just told us that the space beside my house was going to be used by another soldier who would build his house at a later stage.
"We don't have good jobs to build another new house just overnight, we are also struggling here."
Mr Koroi said the house they were now sheltering in was leaking and did not have a solid foundation.
"My wife had gone to see them (RFMF engineers) at their office but she wasn't able to get assistance from any of them because they kept saying they were still in a meeting."
The distraught homeowner said his employment had been affected because of the incident.
"I have asked the boss at the company I work at to help me and give me at least two months leave."
RFMF Commander Rear-Admiral Viliame Naupoto said he was aware of the issue and investigations were ongoing.
"I was briefed on it yesterday (Tuesday), I am awaiting the outcome of our investigation," he said.
"I can confirm that our engineers were responding to a request from a gentleman to cut a tree in that area when the unfortunate incident occurred."
Meanwhile, National Federation Party parliamentarian Lenora Qereqeretabua, who has visited the settlement several times this week, has called on the engineers to fix the family's house.
"The wife came to my place to see if I could assist them because she had gone to the engineering corp in Nabua twice and no one came to offer her restitution," Ms Qereqeretabua said.
"This is a shocking way to be treating people and I really want to get involved because many other people could have been treated like this and just haven't had anyone to go to."
Ms Qereqeretabua said the incident was a clear case of damaging property.
"I am really pleading to the relevant authority, or whoever it is, to please come and look at the plight of this family because these are human lives and people shouldn't be left like this and not knowing where to go next."
She said the family lost everything and were forced to live in an empty house near their home which was unfit for human habitation.
"I am hoping that the people who damaged this house would come and make it better than it was."