Ex-All Blacks coach Steve Hansen puts heat on World Rugby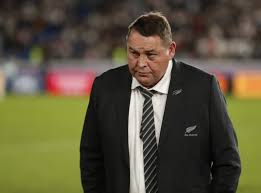 Steve Hansen is certain World Rugby won't have the courage to kick the All Blacks out of World Cup tournaments if NZ Rugby breaks rank and schedules its own tests.
Ex-All Blacks coach Hansen is also annoyed that World Rugby's attitude to player welfare is getting worse, and that it remains clamped in the grip of the powerful French and English clubs.
Because multiple requests to introduce a global calendar, and a revenue-sharing model that would allow NZ Rugby to earn money from All Blacks' games in the northern hemisphere, continue to be overlooked a frustrated Hansen suggested NZ Rugby could go it alone and send out its own invites to teams to play the All Blacks.
"You arrange your own test matches. It would sort out who is doing what – because if England wanted to play us, they would play. They do that now, when it is outside World Rugby-appointed test matches.
"They pay now – so they revenue-share now. So for people to say it will never happen … it will never happen if World Rugby keep organising the games.''
Such a bold, some might say maverick, plan would be unprecedented. But NZ Rugby badly needs money because the Covid-19 pandemic has blitzed its balance sheet, and Hansen asked why should NZ Rugby feel obligated to stick to World Rugby's party line when the Six Nations unions hold the ace cards.
When it was put to Hansen that an angry World Rugby could try to seek retribution by booting the All Blacks out of the global tournaments he didn't believe it would have the fortitude to derail its own tournament.
"I will put it to you this way. Do you think World Rugby would like to have a World Cup without the All Blacks in it?'' Hansen said.
"It just wouldn't happen because they couldn't stand for it to happen.
"And what are they going to kick us out for? For having an opinion?''
Hansen endorsed NZ Rugby CEO Mark Robinson and chairman Brent Impey for the massive task of rebuilding the organisation's finances, with losses in the tens of millions imminent.
As a former board member, Robinson observed his predecessor Steve Tew at work and Hansen, a close ally of the latter, believed the new CEO wouldn't wilt if World Rugby put the blowtorch on him.
"Knowing Mark, I am sure he has spoken to Tewie often. He certainly won't be frightened to drive what has to be driven and that's what you need.''
Sanzaar's members were disappointed World Rugby chairman Bill Beaumont was re-elected ahead of Argentina's Agustin Pichot in June; this led Impey to suggest privately-funded test tours to rake in much-needed revenue in the wake of the pandemic.