Emphasis on training
12 October, 2018, 9:58 am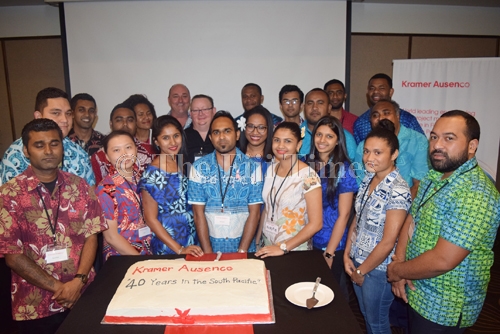 THE largest independent professional project management and engineering firm in the South Pacific region — Kramer Ausenco is focused on training their young team so that they can take over the reigns of managing the company in years to come.
Kramer Ausenco Fiji office manager Shane Harris said they had a young team of 20 staff members based in Fiji.
The company celebrated its 40 years of operation in the South West Pacific at the Holiday Inn Suva.
Mr Harris reaffirmed the company's devotion to the pursuit and progress of excellence in professional engineering and allied sciences and being truly committed to the development of Fiji and the South West Pacific.
Originally founded in 1974, the company has been involved in numerous projects in the country — namely the newly built Ba Hospital, newly renovated Holiday Inn and the region across a range of industries including mining, oil and gas, power, hospitality, maritime and health and education.
"Our people use their local knowledge and experience, combined with high-level skills to design, construct and deliver hospitals, schools and universities, large-scale hotels, airport terminals, roads, bridges, wharves, jetties and mineral processing plants," Mr Harris said.
"They personify our company values of maintaining a high quality of work and productivity, exceeding our clients' expectations and commitment to quality of service in our delivery to fit-for-purpose solutions."
Mr Harris said their focus on values ensured that they achieved what they set out to do and that was to provide quality engineering and program management services to the South West Pacific.
"We are proud to be the largest multi-disciplinary engineering and architectural business resident in the region serving Fiji, Papua New Guinea, Solomon Islands, Vanuatu, Samoa, Tonga and Australia with engineering excellence with a blend of old and new traditions."