Drought and El Nino watch continues for Tonga
13 October, 2018, 2:35 am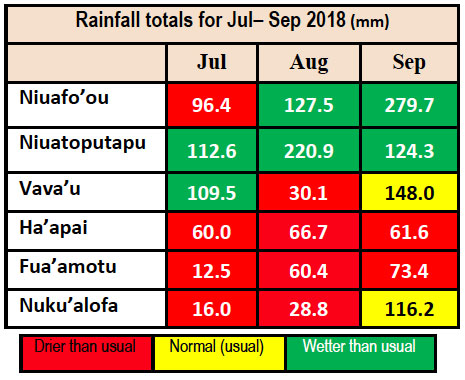 NUKU'ALOFA, 12 OCTOBER 2018 (TONGA) – Tonga continues to be on a drought and El Nino watch according to the Tonga Meteorological Services monthly update on 11 October 2018.
In recent weeks, the Pacific Ocean has warmed because of weakening trade winds, while the Southern Oscillation Index has fallen to typical El Niño levels. Models suggest further warming is likely.
There is approximately a 70 per cent chance of El Nino occurring in 2018 which means below average rainfall.
Although most of the country experienced above average rainfall in September, except for Ha'apai and Fua'amotu, the forecast up to March 2019 sees dryer weather.
The rainfall forecast for October – December 2018 is below average for most of the country with Ha'apai and Fua'amotu expecting average rainfall..
The rainfall outlook for January – March 2019 is below average for most of the country except for Fua'amotu which is forecast to have average rainfall.
Given the current seasonal forecast in Table 1, the increasing chance of El Nino occurring, and the rainfall total for the last three months, people are urged to use water wisely and collect as much water as possible when it rains.
In addition, people are encouraged to seek advice from relevant authorities of sensitive sectors such as Agriculture, Water, Health and the National Emergency Management Office (NEMO) on the best practices to minimise the effects of natural disasters.