COVID-19: City put on notice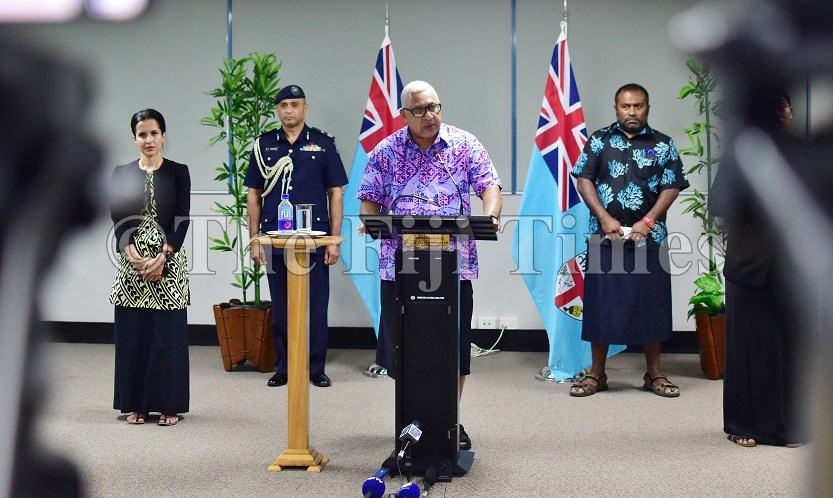 LAUTOKA residents have been put on notice that the COVID-19 lockdown could extend past the 14-day period which ends on Friday if people don't "pull up their socks".
Prime Minister Voreqe Bainimarama issued the stern message at a press conference yesterday, and at the same time highlighted the penalties that were in place for those who breached health protection measures.
"In the days ahead, I want to see that same spirit of positive social pressure in the Lautoka confined area, as this week will prove absolutely critical in determining whether –– come Friday morning –– we either lift restrictions or have to extend them," he said.
"If even one of you fails to follow the rules and –– God forbid –– this virus spreads within Lautoka, all of you will stay on lockdown even longer.
"So, to those currently in the Lautoka confined zone, you all need to ensure the rules are followed, and encourage each other –– your community, and everyone you see –– to do the same.
"There's only five days left; pull up your socks, keep to the rules and get your city through this –– together."
Mr Bainimarama said when Parliament passed the COVID-19 Response Budget, it also gave teeth to enforcement under the Public Health Act.
"It used to be a $40 fine if anyone violated our COVID-19 health protection measures; now, it's five years in prison and up to a $10,000 fine, or both." He warned law-breakers that they would have zero tolerance for those risking their lives and the lives of others.
"If you break government-imposed quarantine or any other of our rules, you will end up paying the price.
"No matter where you are in Fiji, treat this crisis seriously.
"Keep a safe distance between you and others and wash your hands with soap and water.
"Fiji is at war with coronavirus. We cannot see our enemy, but we must act as if the enemy is in our midst at all times."