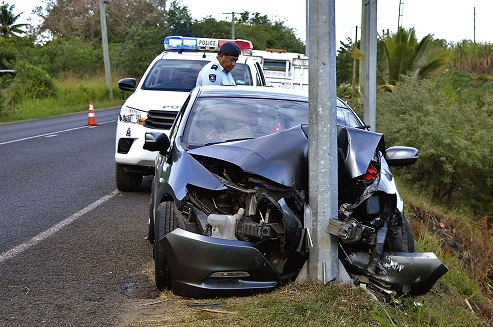 ONE man died and his wife was rushed to the Nadi Hospital after the vehicle driven by their son smashed into a power pole on the Queens Rd at Korovuto in Nadi, early yesterday.
Vika Voka, one of the first respondents, said she was woken up by her mother at 5.30am and rushed to the scene along with two family members.
"When we got to the car, we saw three people –– a young man in the driver's seat and an old man beside him and an old lady who looked like she had been thrown into the front seat when the accident happened," the 21-year-old said.
"The driver was holding the old man's head and kept calling him 'dad' and also asked us to help his mother –– that's when we knew they were a family.
"We tried to open the driver's side door, but couldn't and finally managed to get to the old man through the passenger side door.
"One of my cousins managed to cut the driver free and he kept calling out to his father, his father tried to respond, but after a while there was nothing.
"We are not sure where they're from, but the son kept talking to his mum in the Nadroga dialect."
Ms Voka said they managed to flag a vehicle which rushed the trio to the Nadi Hospital.
"We live right beside the road and there have been a lot of accidents on this section of the highway, they should make a hump to control the speed –– people always speed down this section of the highway because of the long stretch."
Police spokeswoman Ana Naisoro said the family was travelling towards Nadi when the accident happened.
"A passenger died at the scene and the others were taken to the Nadi Hospital," she said.