Bainimarama takes a swipe at NFP and SODELPA
7 October, 2018, 10:03 am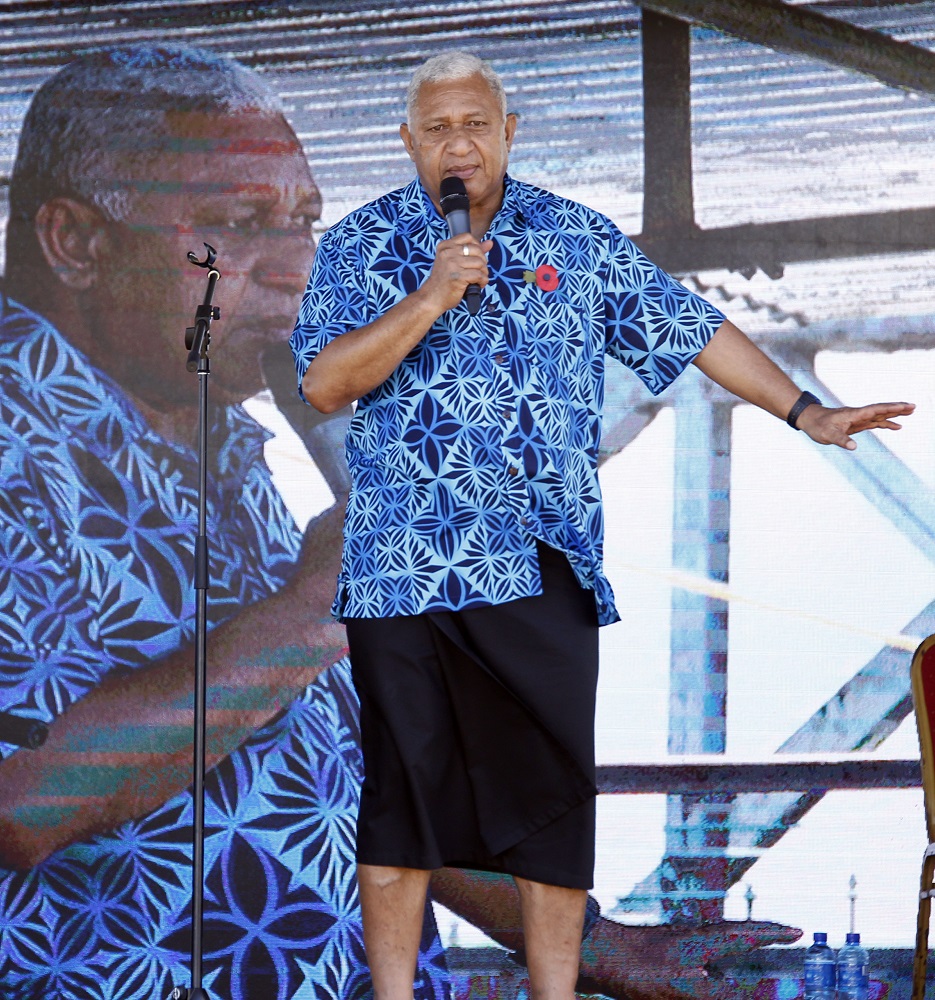 FIJIFIRST party leader Voreqe Bainimarama says he does not want the National Federation Party (NFP) and the Social Democratic Liberal Party (SODELPA) to be their Opposition in Parliament after next month's general election.
He made the statement while addressing party supporters at the party's family fun day at Syria Park in Nausori yesterday.
"We do not want some political parties sitting opposite the government next time we go into government talking about race, talking about religion, we do not want that," Mr Bainimarama said.
He claimed SODELPA was formed to look after the interest of the iTaukei people while the NFP was formed to look after the interest of Fijians of Indian descent.
Mr Bainimarama said the question was who was going to look after the interest of the other ethnic groups if one was to be appointed into power.
He also claimed NFP leader Professor Biman Prasad "goes under the table" whenever SODELPA attack Fijians of Indian descent in Parliament.
"This is the kind of political parties that are standing against this group," he said.
"We stand for equality that is the best thing that we can tell you. "We don't even want them as Opposition, seriously, we do not want those kind of people as Oppositions. If any opposition party has to sit in a room opposite from us we want them to be like us, to think along the same lines especially with regards to equality."
Mr Bainimarama said as a former Commander of the Republic of Fiji Military Forces (RFMF) he was certain that they had brought about security and stability in this nation.
"If I had not done what I did in 2006, most of them would be running through the cane fields. I am serious, they don't know what had transpired in 2000 and 2006." In his response, Prof Prasad said it was useless to urge the PM to campaign on issues because he has "insatiable appetite to stoop to gutter level".
"We will not stoop to his level of spewing venom mixed with absolute garbage," Prof Prasad said.
He said comments made by Mr Bainimarama that NFP only supported Fijians of Indian descent was downright racist.
"The PM's comment that NFP supporters would be running in the cane fields if the 2006 coup hadn't happened and that NFP leaders will run away when something happens, is despicable.
"The PM should be the last person in Fiji to be talking about running and ducking. NFP has been around for 55 years and will remain steadfast in its resolve to bring about genuine democracy, justice and fairness for all our people," he said.
SODELPA general secretary Adi Litia Qionibaravi said Mr Bainimarama's comments were unfortunate because the SODELPA was a multiracial party and it would look after the interest of every Fijian.