APEC Haus set for opening next week
9 October, 2018, 10:35 pm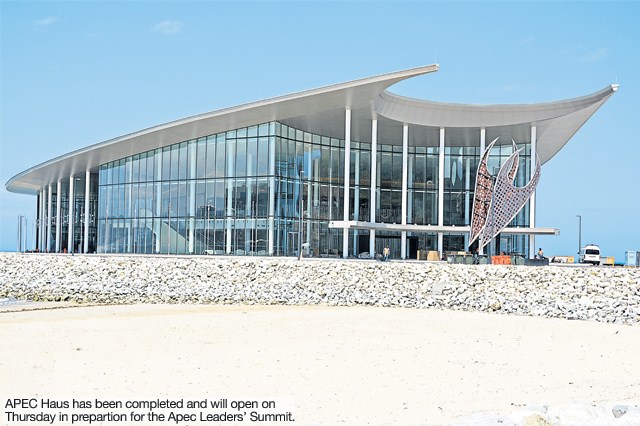 PORT MORESBY, 09 OCTOBER 2018 (POST COURIER) – The APEC Haus in Papua New Guinea will be opened next Thursday.
This was confirmed by Minister responsible for APEC Justin Tkatchenko who said the first phase of Hilton Hotel would be opened this week.
The Minister was giving an update on the preparations for APEC – Asia-Pacific Economic Cooperation – as the countdown starts in earnest to the all-important Leaders' Summit meeting.
Tkatchenko said with the recently concluded final walk-through of the 21 economies representatives, all the countries are looking forward to the November Summit.
"We had all 21 economies advance team in the country finalising logistics, movements, accommodation and other important issues that needed to be finalised, this also saw meetings with the Americans, Russians, Chinese and other countries who are expected in the country," he said.
The venues are near completion, APEC Haus will be opened on October 18, Hilton Hotel will be opened this Friday, and this will see doors opened to start business, Tkatchenko said.
The Hilton will host the gala dinner for world leaders, he said.
APEC Haus has been built on reclaimed land near Ela Beach, and does an iconic design resembling the lagatoi – Motu trading canoe – sail.
The interior design will also create a unique PNG experience using traditional materials of the region including shell, clay, timber, and metal.
The APEC Haus is built at a cost of K120 million (US$36 million) through the Oil Search tax credit scheme.
For the Hilton Hotel, which is being built by Star Mountain Group, is nearing completion, this building will accommodate delegates in time for the Leaders' Summit.
Meanwhile, the first of the three cruise liners will arrive in Port Moresby on November 10.
APEC Minister Justin Tkatchenko confirmed the arrival of the first cruise liner which will be used for accommodation for the CEO's and other representatives of the 21 economies arriving into the city for the Leaders Summit.
The three cruise ships Pacific Explorer, Pacific Dawn, and Sea Princes are all operated by P&O Cruises Australia.
Two of the three cruise ships to accommodate 4000 guests with the third ship to anchor off the new Motukea Port location.
Engagement of the cruise liners will assist in catering for accommodation shortfall for the thousands of leaders, delegates, and invited guests that are all expected to flood into Port Moresby for the main leader meeting of the 2018 APEC Summit.
Tkatchenko said over the next couple of days before the leader's summit starts the other two ships will arrive in PNG's waters.
These ships will host the APEC CEO summit, visiting media representatives and the overflow of delegates from hotels.
It is essentially a floating hotel.  It has almost 6000 beds across the three vessels.
These vessels will be rented by delegates from the APEC economies.