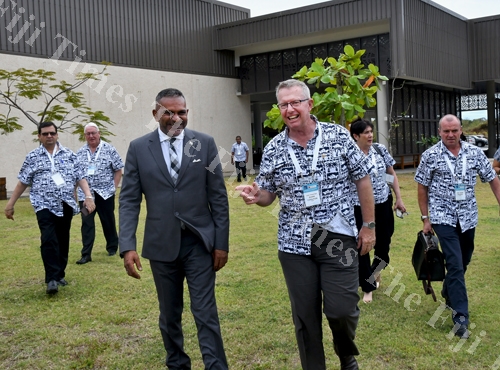 TWO-WAY trade between Australia and Fiji reached $1.1 billion last year and Fiji received $187 million worth of Australian investments, says Industry, Trade and Tourism Minister Faiyaz Koya.
He made the comment while speaking at the 2018 Fiji Australia Business Forum at the Fiji Marriott Resort Momi Bay yesterday.
He said Fiji, as a modern and progressive nation, offered a lot of opportunities for Australian investors.
Mr Koya said Government had continued to invest into new and innovative programs free education for all Fijian primary and secondary school students.
"We have a literacy rate of 93 per cent," he said.
"This has been achieved through Government-funded loans and scholarships to allow more people to afford access to higher education.
"Fiji offers a number of targeted incentives to foreign investors that will be of great interest to those in this room.
"Our corporate tax rate stands at 20 per cent, a figure that becomes even more attractive if a foreign company establishes their headquarters in Fiji, dropping to 17 per cent.
"And if the company is listed on the South Pacific Stock Exchange that rate is lowered even further to just 10 per cent.
"We also have massive areas of land across Viti Levu and many of our maritime areas that have been declared as tax-free regions.
"The Wairabetia Economic Zone is one such initiative of the Fijian Government that provides opportunity for investments in industries such as ICT, technology, logistics services and manufacturing, to name a few," Mr Koya said.